Hi All,
I was waiting for my TBLeague Pale body to arrive from China so that I could do this collective cross brand colour matching photo shoot, but it's been delayed and still in transit. But I couldn't wait any longer as the old year is done, and I wanted to help answer those nagging questions that many of you have (I've seen them in various 1/6 forums), as I have been having over the past 2 years, and no one could or wanted to answer them (for God knows what reason).
There is an old VeryCool colour matching review here, a Jiaou Doll, male and female body colour matching thread here, and way lots about Phicen/TBLeague. In fact, in the past 2 years (since 2017), when I started kitbashing, when I asked the critical questions to the old birds (chinese dialect for experienced people) trying to find a cross match between TBLeague and Very Cool to match a HS, I knew some people had them because they had been showcased separately here. But no...silence. It was Phicen Phicen only. No one wanted to talk about anything else expect Phicen, especially during the Phicen/JiaouDoll legal action period in 2017.
So, as the old saying goes, if you wanted something done, you just have to do it yourself.
This collection of female bodies is small, but it covers the main brands that are probably the most popularly used in kitbashing (short of the TBL Pale which I was hoping to compare with the JD Pink).

I am missing the Very Cool FX02-C which is in this older photo below. It is currently in the Batgirl outfit, so I couldn't show the skin tone because of that. But it would match up with TBLeague's new suntan, Pop Toys Xing suntan and JiaouDoll's KT, and probably the new Wheat (BS01) which was introduced for the Jiaou Doll European body (which I don't have).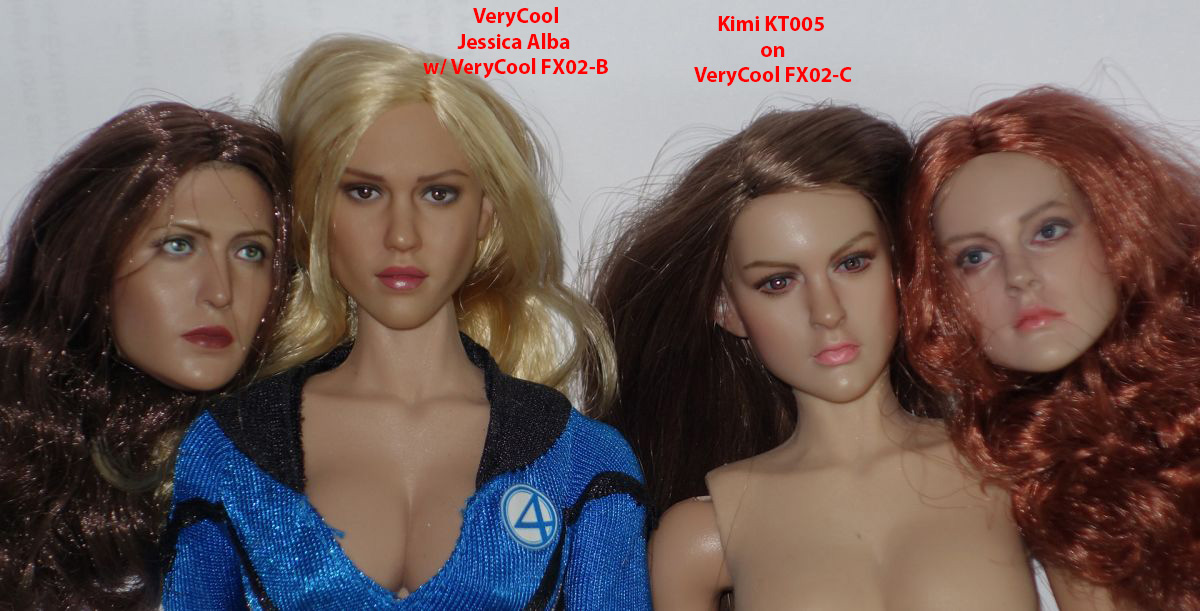 Someone asked about the VeryCool Jessica Alba head somewhere, and it comes closest now to the Jiaou Doll Wheat (BS). I believe the Jiaou Doll Brown is a Kumik HS match (if someone can confirm that) and so may not work for Jessica Alba HS.
ZC Toys Elizabeth Olsen HS seem the darkest in hand, and is still darker than the JD old Wheat, but the tone is somewhat more like KT, but darker. It's a strange in-between, but darker. I don't have a JD Black to match, but I was informed that Black is actually greyish.
You can see that the new 2018 JD Wheat is much lighter than the 2017 version, so much so that Slave Leia actually works better with the old Wheat. YM Toys Song HS is also a different tone compared to the new Wheat.
My SuperDuck SDH005 type head which is from the PowerGirl set, does not match anything except the Kumik body (which is a rather poor design). The SuperDuck HS comes closest next to the JiaouDoll new Wheat (BS), but the HS is comparatively lighter and richer in tone. But I suspect that SuperDuck has a couple of skin tones for this HS type, which has been released in different variations (plus the new movable eye versions).
JiaouDoll's new 2018 KT is much lighter than their 2017 KT. I suspect Kimi KT004 HS was possibly lightened to match the TBLeague suntan. Thus JiaouDoll lightened their colour, and so it now pretty much matches up to almost every head sculpt that TBLeague new suntan/VeryCool -C/Pop Toys Xing suntan matches (probably included Jiaou Doll new Wheat BS01). This tone seems to be the common popular baseline for skin tones.
The Wondery Ava elf HS matches very closely to the Jiaou Doll Natural (YS). Unfortunately, I haven't got my TBLeague Pale to check the colour match.
Similarly, this SuperDucks set019 2B HS is waiting for that TBLeague S4B Pale body, which I discovered from CAM7's photo review (for set015) to be slightly off, with the HS richer in tone. Unless the set019 has a slightly different tone to the set 015, it seems to fit exactly to JiaouDoll's Pink (PM) tone. Will update this photo once the TBL S4B arrives.
Hope this is informative to you kitbashers out there. I wish I had this information when I was starting up!
Happy New Year 2019!!!