Discussion Starter
·
#1
·
Corporal, Royal Ulster Rifles , D-Day , Normandy
.
I've mostly been working on figures from much earlier periods in recent months , but the lure of WW2 is always there , and I couldn't resist putting this chap together to use one of Weylen Tseng's wonderful new Mk.III helmets .
These are vacuumformed plastic, which gives an excellent finish , and they are of realistically thin section .
Here's the helmet without the garnish : the strap is still a bit long. The Mk.III had an elasticated strap rather than the spring sections of the Mk. II .
And here's the finished figure :~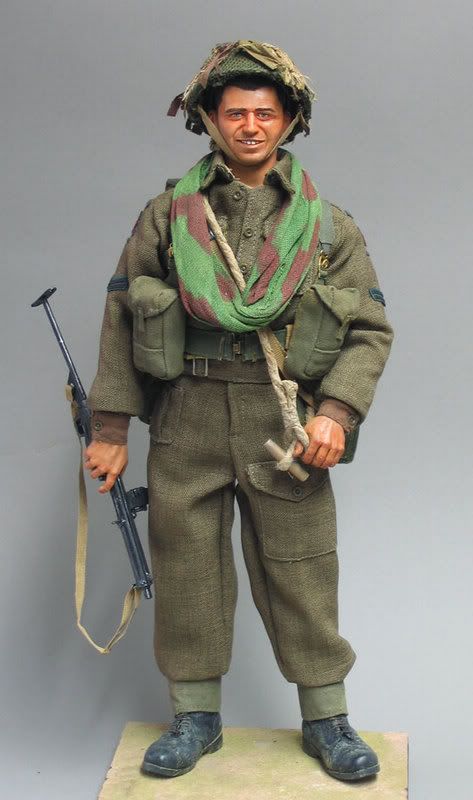 I've fairly closely based the figure on a photograph of men from this unit in a Normandy street after landing on D-Day .
The Corporal has noticed the cameraman , hence the idiot grin.
He also has a few peculiarities in the way he's dressed which make him quite fun.
First , he has draped his camo face veil around his neck like a giant bandana ( Face veils really were this bilious colour ); and he has turned his BD cuffs inside the sleeves , exposing the cuffs of his shirt, to which I've added khaki plastic buttons : they could equally well be tin.They are oversize , but my attempts to make smaller ones came to grief : I might try again .
In the original pic they are all still wearing their lifebelts under the BD jacket , but since I didn't have one I've imagined he's ditched it.
The helmet has been dressed with a fine net , with the scrim attached with twine , as it had to be since the mesh was too fine to pass the scrim through as was done with the coarser nets.
The toggle rope is from a strand of real sisal rope , which I untwisted and soaked with glue .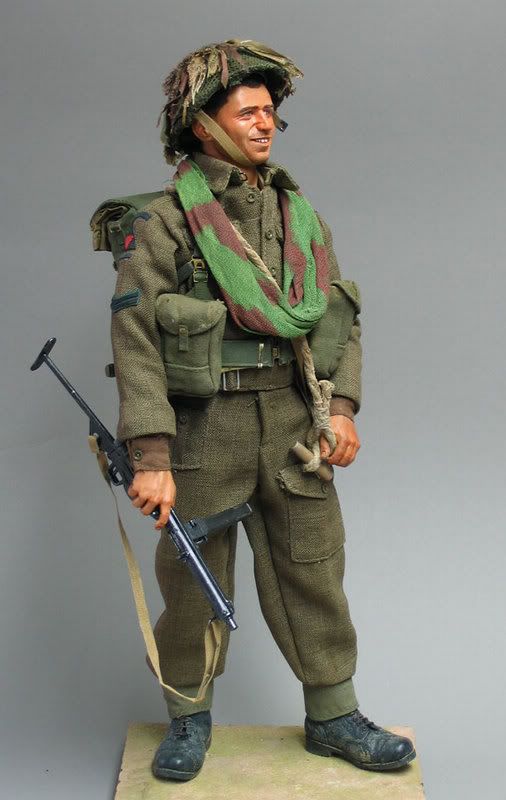 He's also armed with a Mk.III Sten , the cheapest ( and some would say nastiest ) of the various marks of Sten, made by Lines Bros., the producers of Meccano .
This Mark of Sten was very prominent in Normandy , and I'd long wanted to make one . Anyone who has done any plastic kit building will find this relatively straightforward , if fiddly.
You will need some reference pics of the real weapon .
I've posted a Tutorial about this in the usual place .
He's otherwise quite conventionally equipped , but being a Corporal I've given him a machete , made from a piece of steel sheet with a Fimo handle and a leather sheath .
Until someone makes a commercial version of the British issue type, there's no alternative but to make your own. I cut this one from steel sheet , filed it to shape , then made a Fimo handle with tiny brass rivets. The sheath is leather with a brass shim throat bearing three brass rivets : in this case the heads of brass pins stuck in place :
All his insignia are made from little bits of painted fabric, with the Rifle green colouring appropriate to the unit.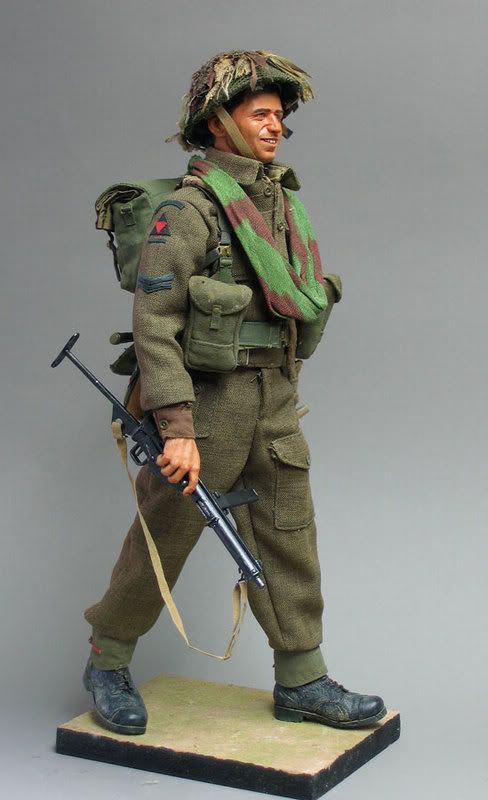 So I now have a Corporal , an Irishman , and a Rifleman to boot , three things I didn't have in my collection !
*************************************************************