Captain William O. ("Buckey") O'Neill, 1st U. S. V. Cavalry, 1898 (NEW PIC 3/26)
Those of us who enjoyed the tv mini-series "Rough Riders" all remember Sam Elliott as Captain Buckey O'Neill. As with many movies, the history was stretched, but the character was real and he led a short but fascinating life. If you want to know his history, this is a good place to start:
Capt. William Owen "Buckey" O'Neill, Roosevelt's Rough Riders, 1898
Spoiler: It is very unlikely that he said, "The Spanish bullet hasn't been made that could kill me.", before he was killed in the lines below Kettle Hill.
My son gave me an illustrated edition of Teddy Roosevelt's "The Rough Riders". In that was a photo of Captain O'Neill, apparently in Tampa, Florida, before the American forces sailed to Cuba, and that is the basis for this figure. Here is the photo, as well as two others. One is a group shot with the officers of the 1st USV Cavalry (Buckey is #25), and the other may be when he was in the Arizona Prescott Grays, prior to the Span-Am War, since the Rough Riders did not have dress uniforms.
And here is my version of Buckey O'Neill, Captain of Company A, 1st US Volunteer Cavalry:
(At the suggestion of Spyder before I ever posted, I've added a b&w image, and at the suggestion of Xwithers ,I figured out how to produce the period photographic effect where yellow uniform parts appear as black)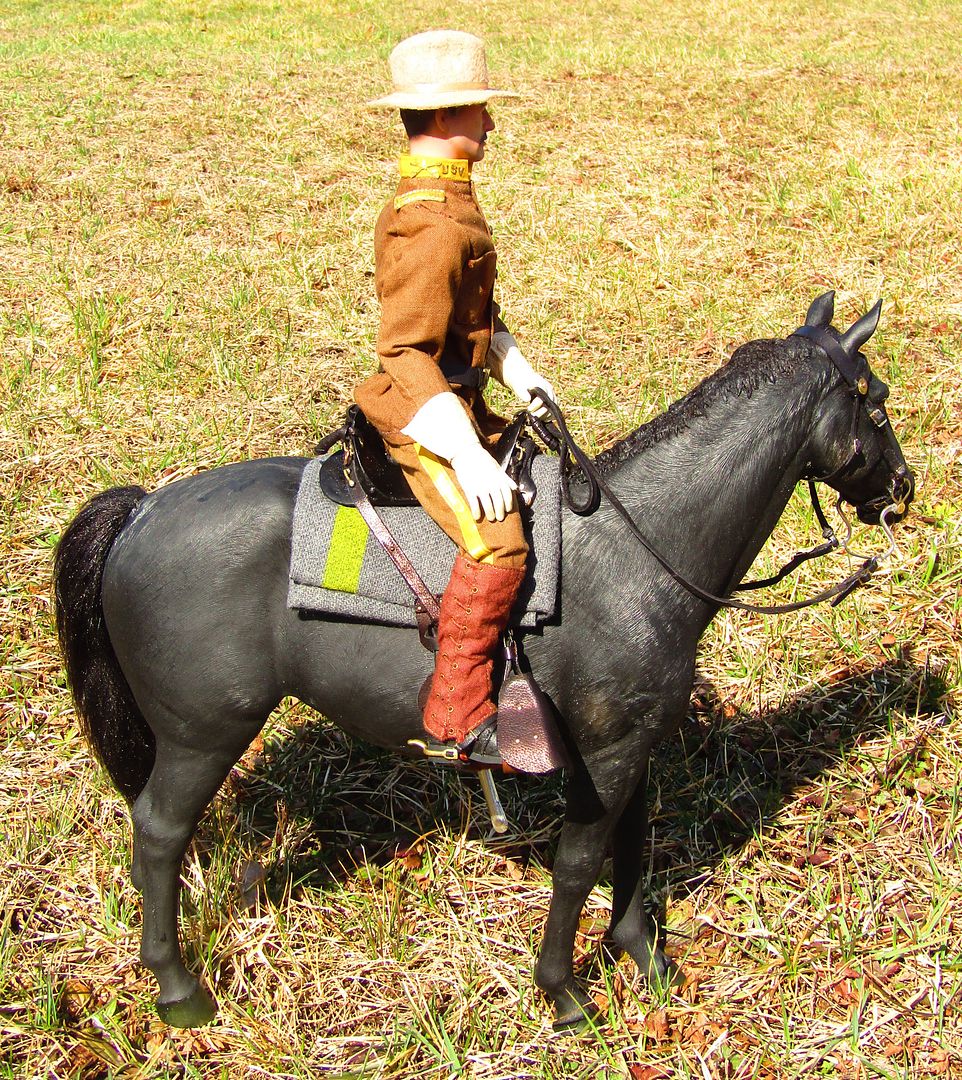 And some detail shots: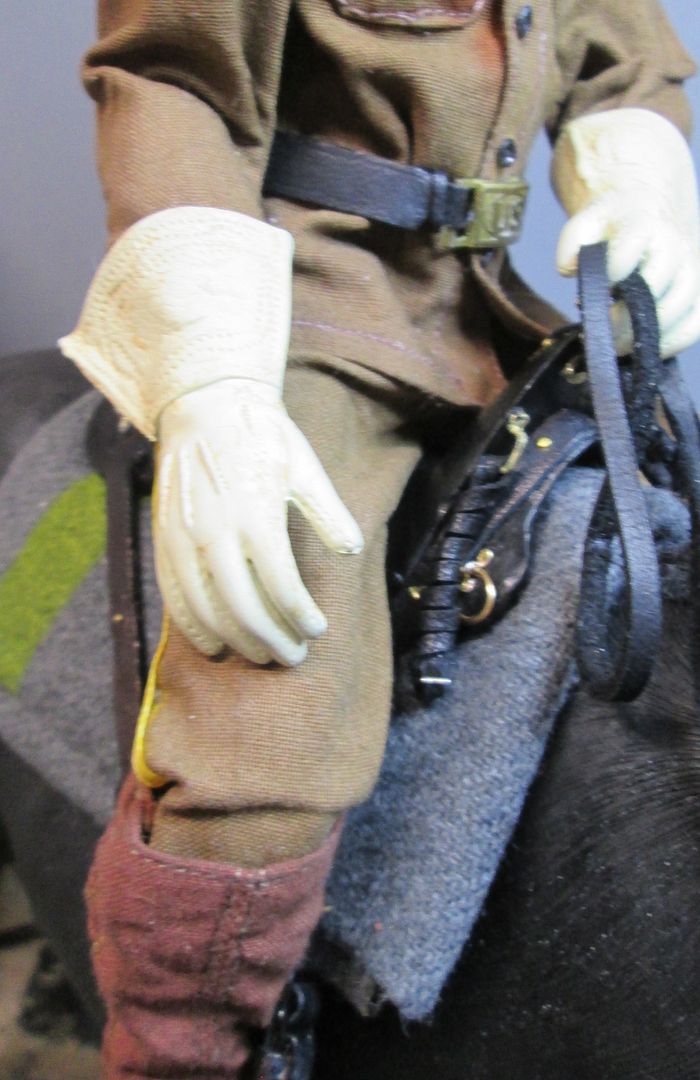 Most of Buckey's uniform is modified BattleGear Toys. He wore a tailored uniform that started as the standard issue brown canvas fatigue uniform the Rough Riders were issued. He had a standing collar added, in yellow, the color designating cavalry, and the crossed sabers and "USV" are made from items printed on foil address labels.. He has captain's shoulder straps from One Sixth Scale King, and trouser stripes, with standard Model 1884 canvas cavalry leggings. The uniform and leggings were re-dyed BGT items. His hat was made by my friend, Gordon, and is the standard 1889 model. His gauntlets are enlisted model, first issued in 1884 which I made by adding custom cuffs to DML flex hands. He wears an enlisted Model 1885 saber belt with a BGT buckle modified with photo etch overlay "US", and his belt slide and Stuart saber sling hardware are also made from my photo etch parts. The saber is a BGT Model 1859 enlisted saber, with my 1885 enlisted saber knot.
Here are details of his horse equipment: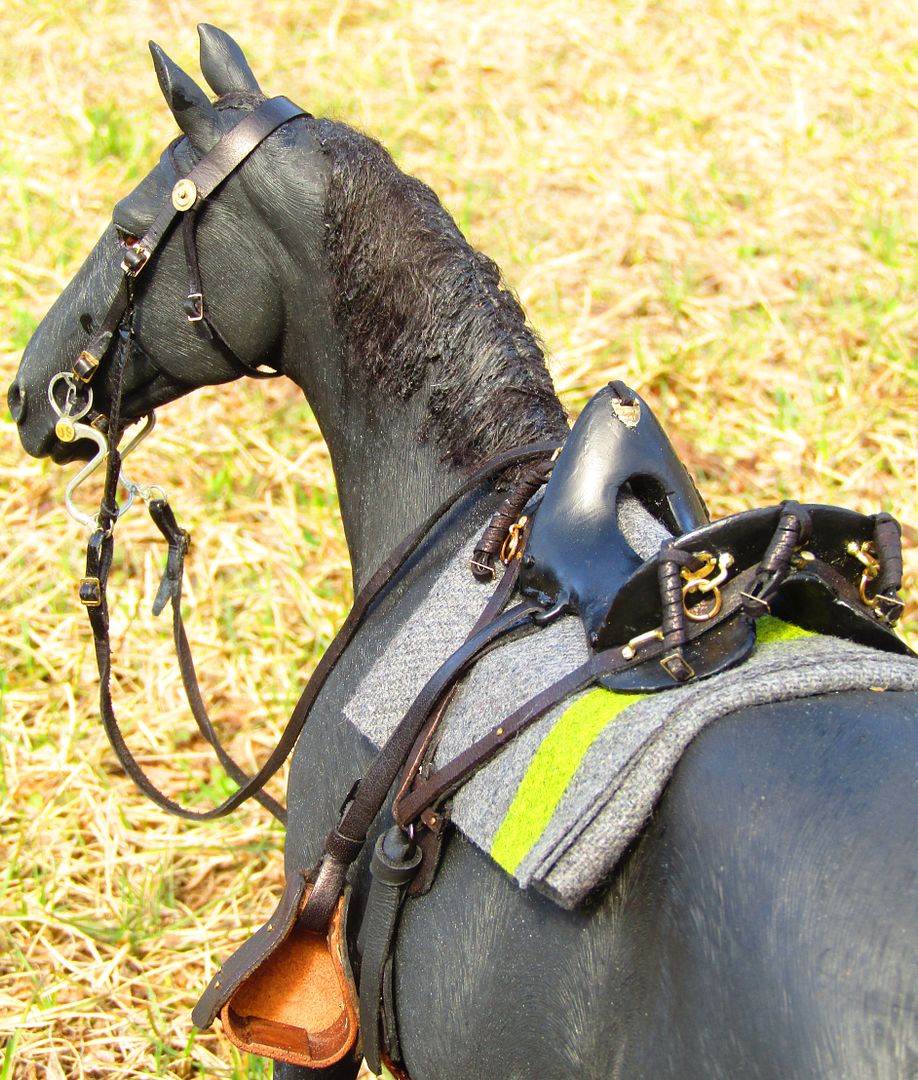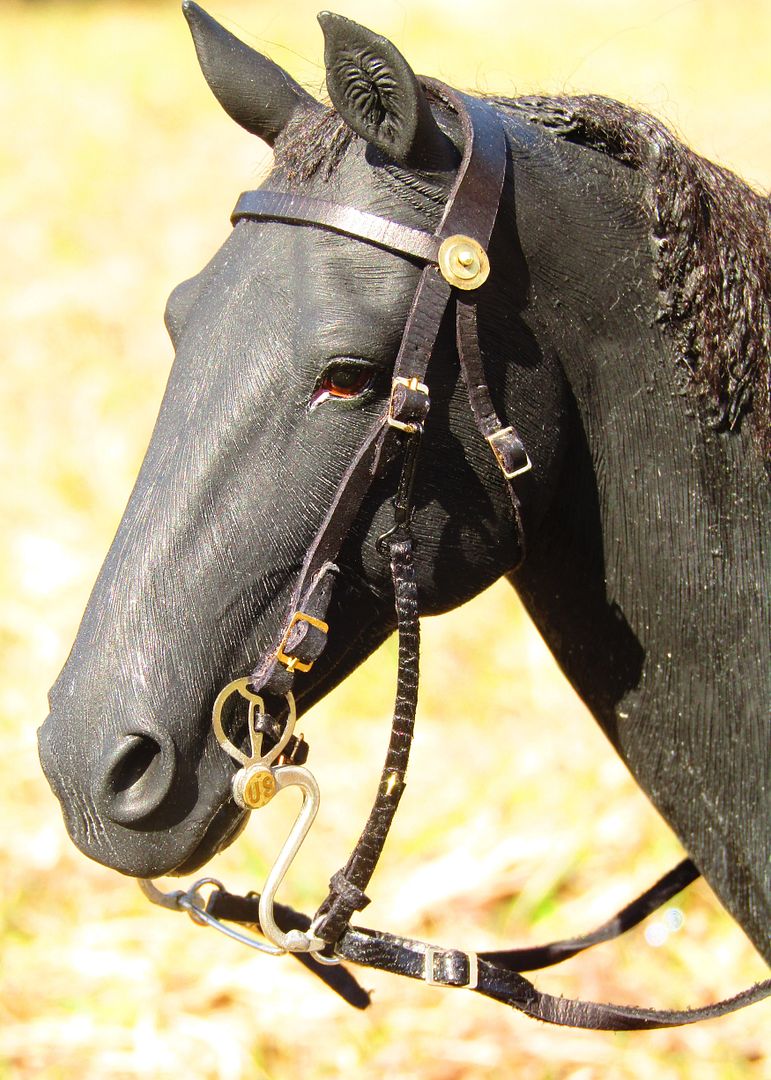 The horse is a Mr. Z Hanovarian. The pose of this one made me decide to actually put Buckey on a horse. I pulled out the fuzzy mop of a mane and sculpted a new one with Apoxie Sculpt. The eyes were masked with Bare Metal Foil and he was sprayed with Testors Dullcote to cut the "plastic" look, then glued strands of mohair over the mane. It's a beautifully sculpted horse, but he could have been a little bigger. Buckey got cut down as much as I dared.
The horse wears a Model 1874/1885 bridle with "Shoemaker" bit. I bought a few photo etch Shoemakers from Rio Rondo when they were available a number of years ago. To improve it, I cut off the shanks and glued the cheek pieces on a cast pewter Rio Rondo Civil War bit and adding real rein rings. The brass buckles are all Rio Rondo photo etch, with my photo etch rosettes, and I made an 1892 link strap.
The saddle is an 1893 "Godfrey" modified McClellan saddle, which had semi-adjustable girth (or "quarter") straps on each side. The tree is one of the legendary "Laughinggravy" trees I bought years ago and modified with Apoxie Sculpt. The saddle shield and coat strap escutcheons are my photo etch, and the staples are from a friend. The ring staples on the pommel are formed from brass wire. the stirrups are the new Rio Rondo 3-D printed US Cavalry 1885/1904 stirrups. I painted a wood grain finish and added leather hoods, with a "US" stamp that I made. The "horsehair" girth was made from embroidery cord and leather. The horse's girth is so big, it had to be made almost twice as long as the longest standard Army girth.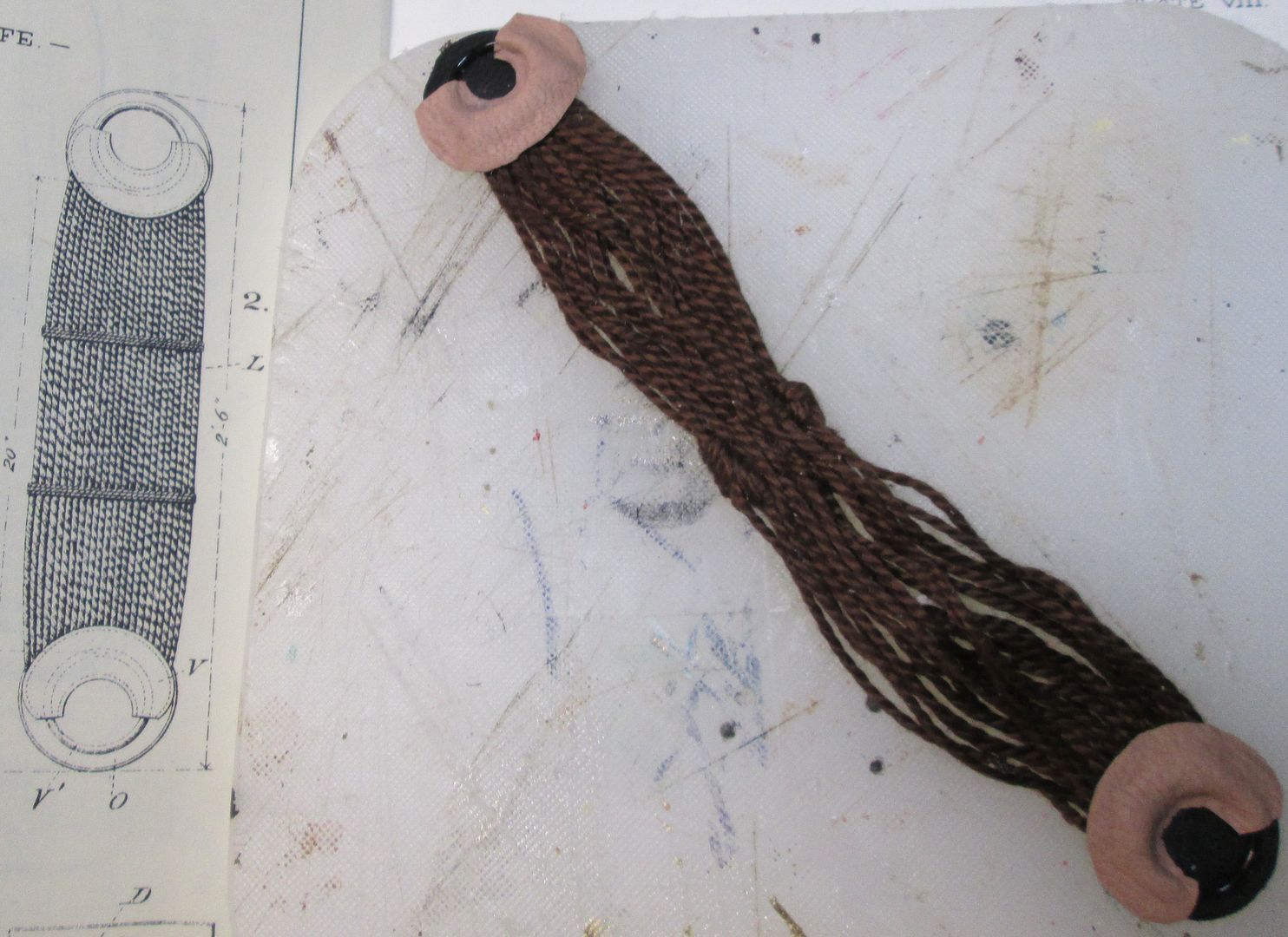 Thanks for looking!