Discussion Starter
·
#1
·
British Corporal, Cassino, May 1944 .
Most of the figures from the Italian campaign that feature on the various forums are the inevitable Fallschirmjager : we rarely see the Allied side .
For many of the British , Commonwealth , Polish and French soldiers taking part in the long agony at Cassino , it was the Forgotten War , epitomised by the wonderfully cynical song , " We are the D-Day dodgers , in sunny Italy".
The fighting at Cassino , to breach the Gustav line , took forever , and was likened to the trenches in the Great War : in terms of conditions and casualties it certainly resembled it . Searing heat , torrential rain and apalling mud , and freezing winter snows , coupled with some desperately bungled Allied generalship up against a brilliant , epic German defence produced a battle whose ghastliness equalled any other in history.
This figure is an impulse creation : I had most of the parts lying around , and just needed the urge: a Mike Chappell plate was the the needed inspiration , though I've wandered somewhat from the detail of his picture.
Troops in this campaign wore a great variety of uniform : KD , BD , and US war aid items , according to the weather conditions. I elected to do the KD shirt and BD trousers , a common combination :
The head was inspired by some fascinating photos taken by a Dutch photographer in newly liberated territory during the winter of '44-45 : a goldmine of facial types of the British Tommy : thanks to Chris W for pointing out the site to me :
http://www.flickr.com/photos/hab3045/sets/72157600161584653/
It's a pleasure to do a Clark Gable moustache : very popular at the time !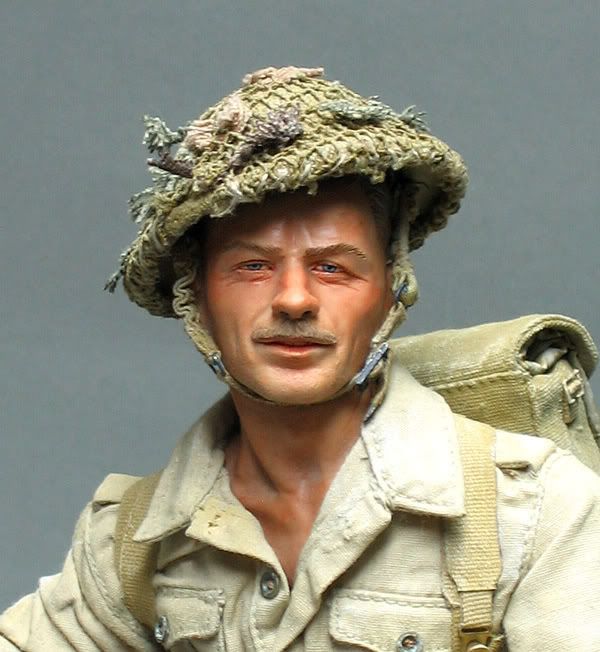 The shirt is not the DML " Reggie " one ,which is very hard to find now , but one I found from a Fallschirmjager figure : don't ask which one , I bought it years ago. The fabric was the same , however , so I changed the buttons and Liberated it .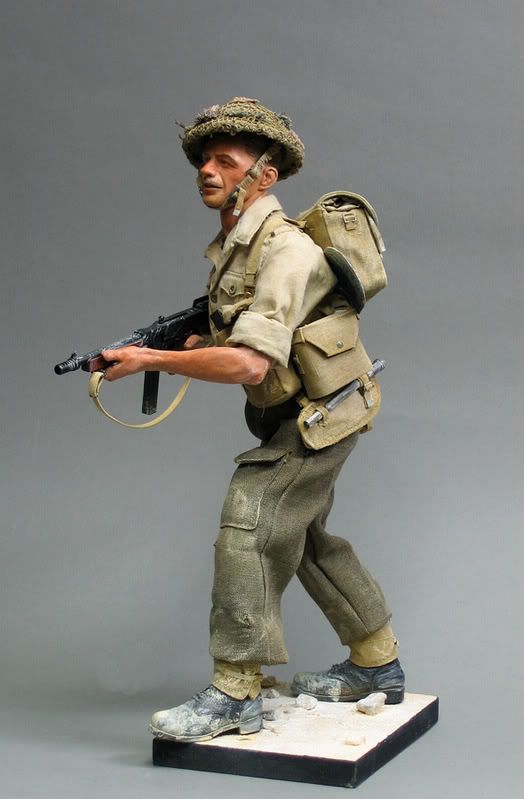 Otherwise it's straightforward : DML BD trousers ( tapered back to the proper width ) and boots , rebuilt scale webbing , and a DML helmet with a hessian cover and a BBI net over it.
The Thompson has a rifle sling rather than the US version : both are appropriate.
The shovel G.S. is one of my own resin ones. Carrying like this must have been damnably uncomfortable , but it was so essential that the soldiers put up with it , and stuck it anywhere about their persons where they could carry it and leave the hands free.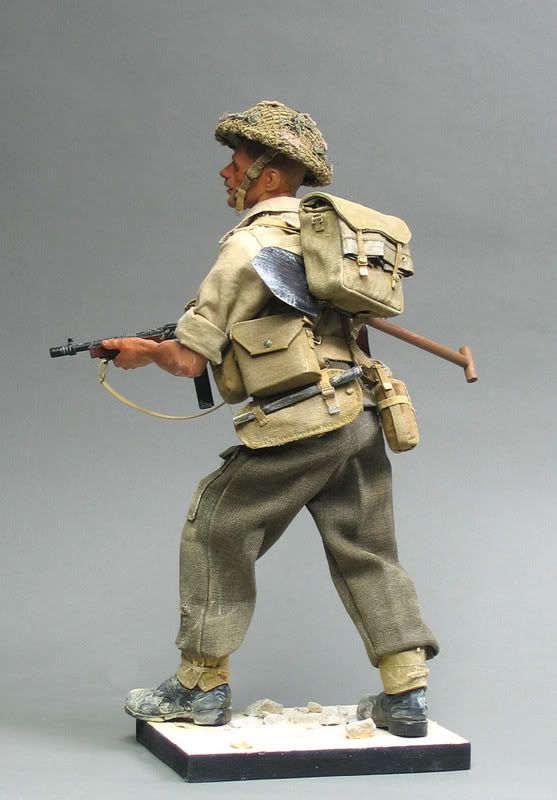 *************************************************************
_____________________________________________________________