Discussion Starter
·
#1
·
Bodies.
One of my regular HS customers just enquired about arms and legs for tropical uniforms : this Tutorial shows how I do them .
I originally wrote this a couple of years ago, but I though it still might be useful for anyone wanting to try this themselves.
I can't remember now whether I posted this here before : but when Searching I couldn't find it, so I hope no harm is done by reposting it... mods please remove if I'm duplicating myself.
For what they're worth , here are my thought on bodies and body modifications. Apart from the limb modelling , my method is pretty similar to others and I have no great secrets to impart ; but the thing I'm trying to encourage is to
be bold
and experiment until you get what you want.
The Commercial body :
Which body you prefer depends on which you have and what you want to make:~
Since I make Historical rather than Modern figures , I use mostly DML bodies : firstly because they are cheap & I've got lots of them ; secondly they are easy to work on ; thirdly , I prefer the shape and size ( 5'9"-5'10" ), despite the imperfections . Because I drill up into the feet of my figures , to pin them to their base , I prefer the feet to other types, particularly the ball-and -socket variety used by BBI and others , which always fall off as soon as I look at them .
I've never had any problem with DML feet , though I know some people say they break easily , but they are great weight bearers , and many of my figures are carrying a deal of kit , some of it metal, so they have to have strong ankles.
BBI bodies are fine if you are doing Modern subjects , but they are too musclebound and big for my taste .
NEW EDIT : Since I wrote this, the Hot Toys bodies have become firm favourites, and there are of course others around.. I now have some of the HT Slim , which I really like since they are such a good realistic size... though I don't personally care for the pin-and-ball feet. The MJ version has just a ball at the ankle , which is much better.
DID bodies are fairly OK when clothed , but there's something about them which gives me the creeps : they look like a badly drawn acupuncture chart ! The chest is much too deep from front to back .
The Sideshow body is very tall ( 6 foot +), but the torso is flatter than the others . By shortening the legs and arms it can be made into a decent figure , though the legs are strange . I don't care for the hands , and drill out the wrists to take DML sized pins , which I use on my own Fimo modelled hands .
The best body IMHO is actually the Medicom RAH 301 , with beautiful small proportions , and an excellent lifting shoulder joint ; but they are hard to find , expensive , brittle and have truly dreadful feet . If you want to represent figures 5'6" and under , they are ideal, and I have about six , in some cases with DML feet added as replacements. If you want to replace the hands , you have to fashion special diameter pegs to make them fit.
Since I've used up more of them making figures, the fragility of the shoulder joint has proved a real problem , and I have had to repair all of mine by putting a bolt through... so perhaps they are not the ideal they once were, now we have the HT slim.
A Digression on Historical Stature :
Most of the figures I model are British from the two World Wars and before , and the rank and file were generally shorter than the standard DML body ( 5'10" ) : the average Private in the Great War was about 5'6" , and his sons in WW2 were not much bigger : 5'7". Napoleonic soldiers were even smaller. The enlistment of large numbers of men from Industrial slums actually led to problems in the Great War : some of them weren't big enough to carry the standard equipment , and there was an ill-fated experiment to put them in" Bantam" battalions .
These heights were of course averages : there were big and little men in all mass armies. To reflect that , it's nice to build some variety .
This pic shows what I mean :~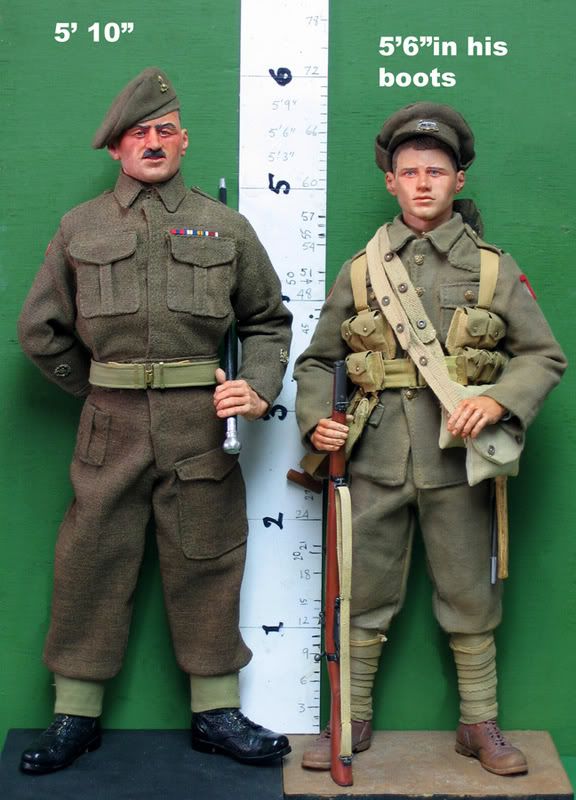 On the left , the Battery Sergeant-Major , 5'10" and getting heavier in his forties . DML body , with some padding built on.
On the right , Fred Holt , 16 ( lied about his age ) , 5'5" , Medicom body . The narrowness of his chest and shoulders is particularly appropriate.
North American and Australian soldiers were noticeably taller than European ones in both Wars .
Smaller stature was a result of the Industrial Revolution , which impoverished the diet of the poor , and can be traced back into the late Middle Ages : interestingly enough , Viking Age populations around 1000AD who seem to have had excellent diets can approach modern size averages.
Modern nutrition and living standards have changed everything in the last fifty years : First World males are now enormous , and getting taller ( and fatter ! with each generation. Even in Japan ,where Japanese WW2 soldiers were notoriously small , two generations later , young Japanese males are about 6" taller than their grandfathers.
Before leaving this little ramble , it's worth noting that the ideal of the Male body has changed radically even in my lifetime , and this is reflected in Toys.
In the Fifties , the mature , deep-chested , broad-shouldered man was the Ideal Film Star.
The late Sixties changed all that : the Ideal was now young , tall , and whippet-thin. He stayed that way until the Nineties, when he started getting more muscular : now a gym-built , steroid- enhanced giant is the new Ideal .
The fact that the Star Wars figures , when re-issued in the Nineties , had all their bodies remade in a muscle-bound style is indicative .Some of the 1/6th manufacturers have been following this trend , which has more to do with cartoons than reality.
I digress….
So , to the mods:
Most of my figures are in simple standing poses , so I don't need to make them more flexible , just more natural , so I don't have suggestions about increasing the flexion , only about stature and proportion .
If appropriate , shorten the lower and upper legs by using a razor-saw to cut out short sections : to maintain the proportion , it's best to shorten both the thighs and the calves. Rejoin the ends with Liquid Poly cement ( MekPak or similar ) :~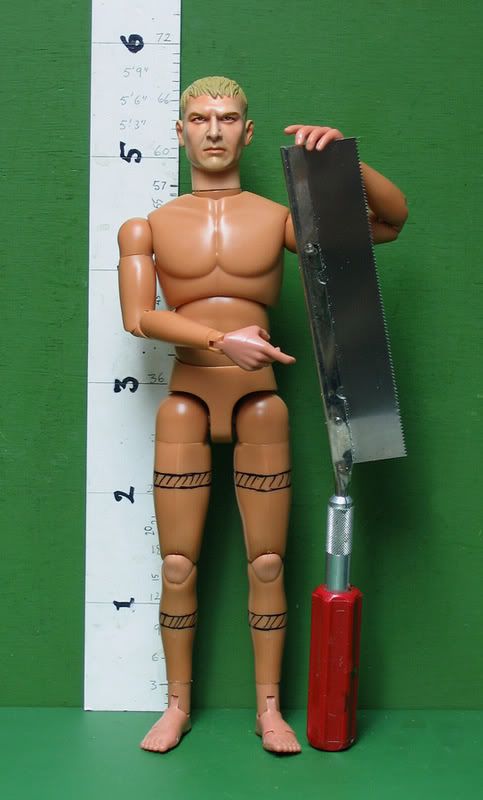 If you are severely shortening the legs ( for a Gurkha or Japanese , for example ), it's best to shorten the arms in proportion , and you are going to have to reduce the torso in some way.
The DML chest is too deep even for most taller figures : if your figure has a lot of clothes , you can ignore it , but if you are doing a Tropical bash with just a single layer , it's best to use a router to remove the pecs at least .If you carve out the whole front of the chest to make it even slimmer, you need to fill it with something .
LocoSS takes the whole torso apart , resizes it and fills with foam , which produces an excellent effect , but it's quite a lot of work.
I generally use a router to take a couple on millimetres off the outside of the shoulders as well .
The buttocks are too small, at least on a standing figure : I add to them with epoxy putty .This can also be used to enhance the knees , which are too thin from front to back : again , this depends how the figure looks in the clothing : it's really obvious with tight trousers , less so with baggy ones .
All these mods can be seen here on a DML and SST body . All the white parts are epoxy putty , and you can see the saw-cuts in the legs:~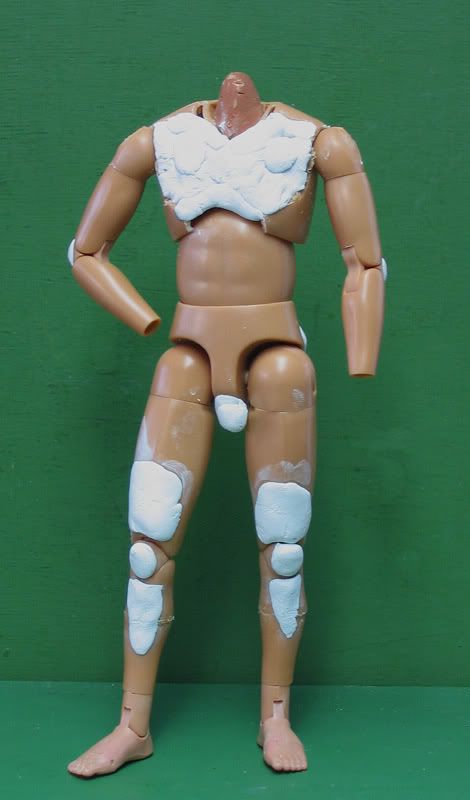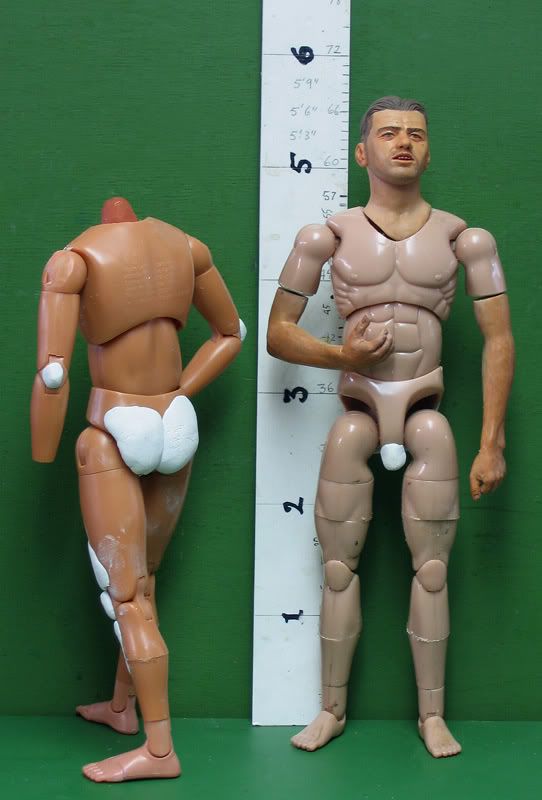 Another improvement is to look at the drape and fit of the clothes, which if neglected can make any figure look unnatural . I use a large brush to soak the clothing on the figure , and leave to dry with realistic folds in place.
You might need to add a little stuffing sometimes : tissue can be useful .Getting awkward items like collars to lie down also requires a little cheating : a single concealed stitch can be handy.
Arms and Knees :
Many of my tropical figures have new arms and sometimes knees : these are modelled in Fimo and inserted into the DML "chassis ".
Modelling them obviously requires anatomical reference , and skill and practice , but if you fancy trying it , you can see my method from these pics : use the tile as a support ( you don't need an armature , the limb is supported by the tile ) model as much as you can get at , which is generally about 2/3rds of the circumference , fire it, then take it off the tile , carve down the other side and model on the rest , then fire that :~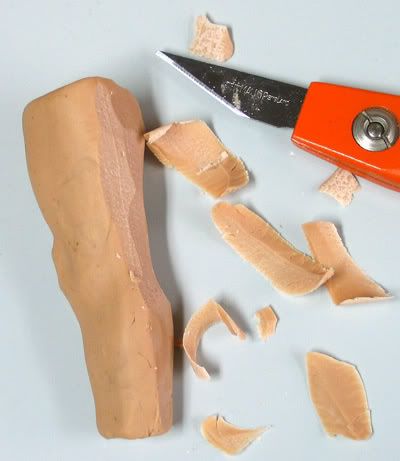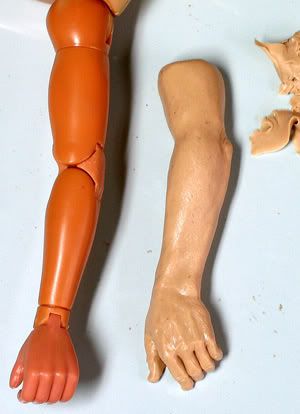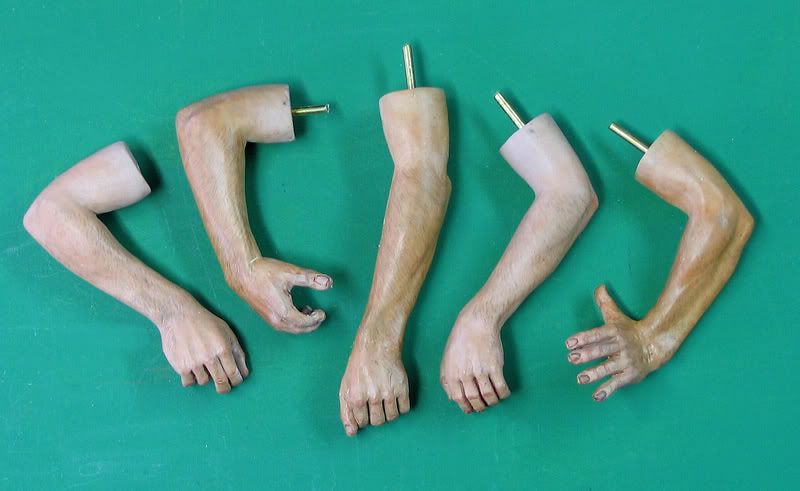 These limbs can be fitted to the stumps : the knees I join with Fimo extensions that fit into the sawn-off thighs ; the arms the same way , or with pins into the epoxy-filled upper arms.You lose the knee and elbow articulations , but keep all the others :~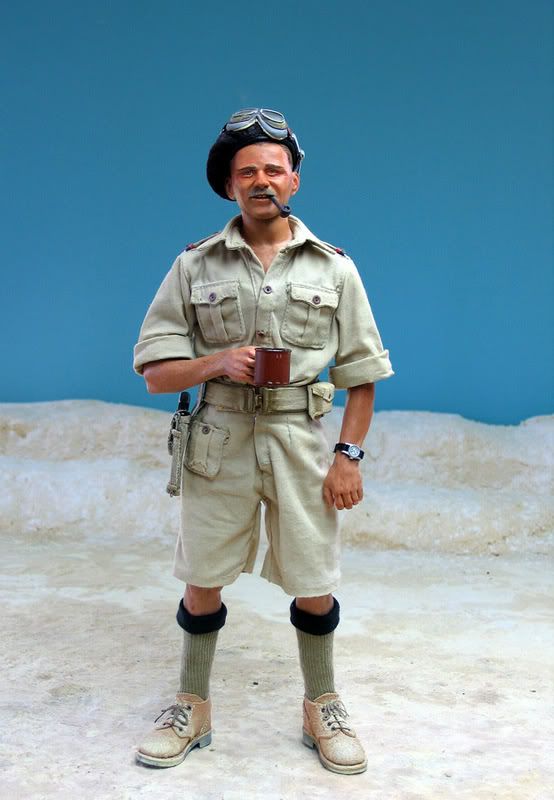 If you model limbs and hands in Polymer clay like this , they retain enough flexibility to fit weapons or whatever in the hands, if you are careful.
Recently , since " Bake'n'Bend " Sculpey became availble, I add a proportion of that to the mix , which adds considerably to the flexibility .
And that's about it.
The commercials are not going to produce extreme body variants for us, though we now ( 10/1/2010 ) have more choice than ever : given that the tooling investment for the forty -odd parts in a body must be their greatest cost , changing it is not economic ; they have to keep making what they have to recoup their money .
There is certainly more choice around than when I first wrote this , which is all good news.
But we still need the option of realistic arms and legs for half-dressed figures, and unfortunately apart from the specialised " Movie Musclemen " figures, those are yet to appear commercially. I know one or two figures have appeared with rubber-wrapped limbs , but they are pretty unconvincing.
I have been asked many times whether I could produce such limbs for sale : the short answer is that
flexible
resin is too expensive for commercial production where I live, and the more economic option of hard resin is too brittle.
I did an expensive experimental set of limbs with my casting company , but the unit price was too high.
When you push a weapon into the hard resin hands , it just snaps when stressed.
Works fine for heads, but not for hands.
*********************************************************************