A while back, BGT started a couple of pages of American Indian Wars equipment, uniforms and weapons. I took a couple of quick pics to show some more detail on the items. I already reviewed the Trapdoor Carbine, and now there is a lot more to work with.
http://www.onesixthwarriors.com/forum/sixth-scale-action-figure-news-reviews-discussion/708421-battlegear-toys-trapdoor-carbine.html
There is a mix of equipment, and we'll start with the "1885" cartridge belt and holster. The term "1885" is a collector's term taken from "Ordnance Memo #29 - Cavalry Equipments, 1885", which was published in 1891. This shows the equipment in use in 1885, though some of the items were issued before that year. The Mills cartridge belt was originally issued with a large "H" shaped "U.S." belt plate, and it is thought around 1881, they began issuing the belt shown for cavalry use. It has a leather billet and bar buckle that is easier to work with and adjust, and has the addition of a brass square and hook for the one-piece saber hanger. BattleGear has faithfully reproduced this belt, and also the third pattern 1881 holster. This holster was the third of it's style, with a belt loop just big enough to slide over an empty Mills belt. It has a "half-flap" to leave the pistol butt exposed and two button holes so it may carry either the Colt or the Smith and Wesson "Schofield" revolver. It is also nicley built, and has the "US" stamp on the body. (For more details on IW holster, here is a link to my post on that subject:
http://www.onesixthwarriors.com/forum/sixth-scale-action-figure-news-reviews-discussion/549834-cw-iw-army-holsters.html
)
To fill this holster, BGT has a new S&W "Schofield". I have to say, this is my new favorite 1/6 revolver. Unlike the SST version (which has been copied by others), the barrel length is correct, and the action opens to expose the cylinder for loading. Be careful, because the rotating cylinder can fall out when it's open. Put a little fabric or white glue on the rod to tighten it up.
BattleGear also has the modified pistol cartridge pouch. It is a CW cap pouch, with the addition of a "US" stamp (thought to have been started about 1875). There were no provisions on the early Mills belts for pistol ammo, and this will fit over the billet, or on a saber belt. There is also a handsome McKeever cartidge box, which began as an infantry item in 1874 and was issued to the cavalry in 1879 - mostly used in garrison. This has been beautifully reproduced and actually opens to expose two rows of cartridges.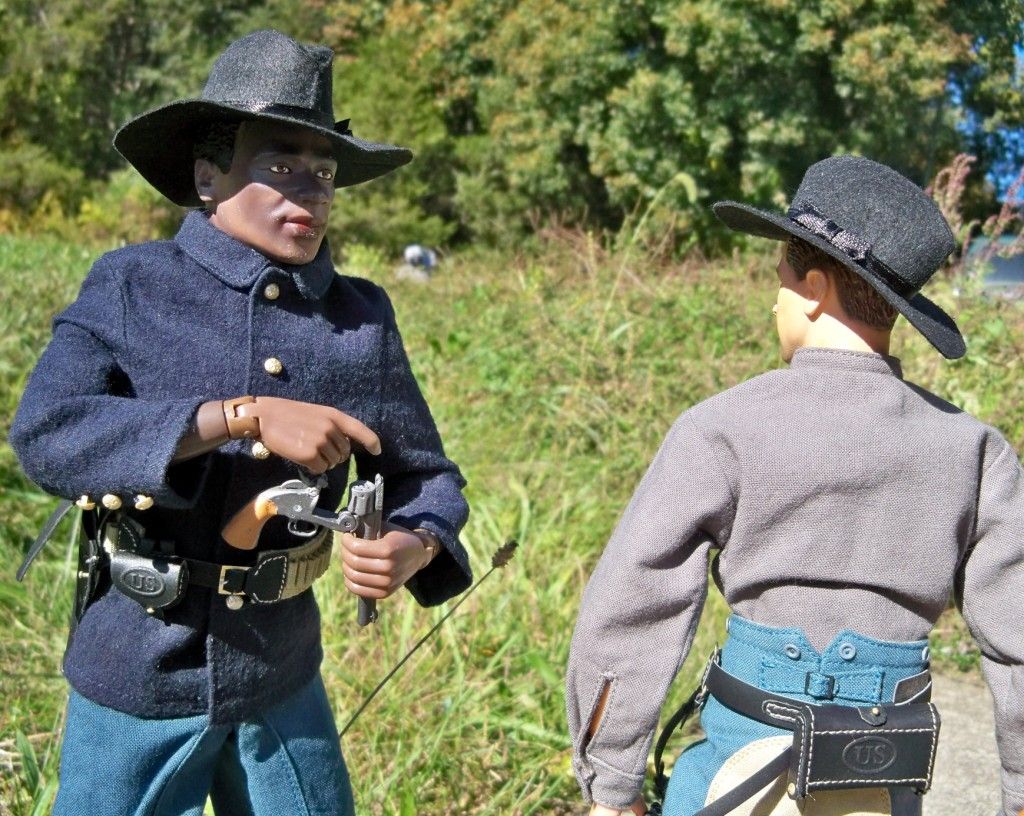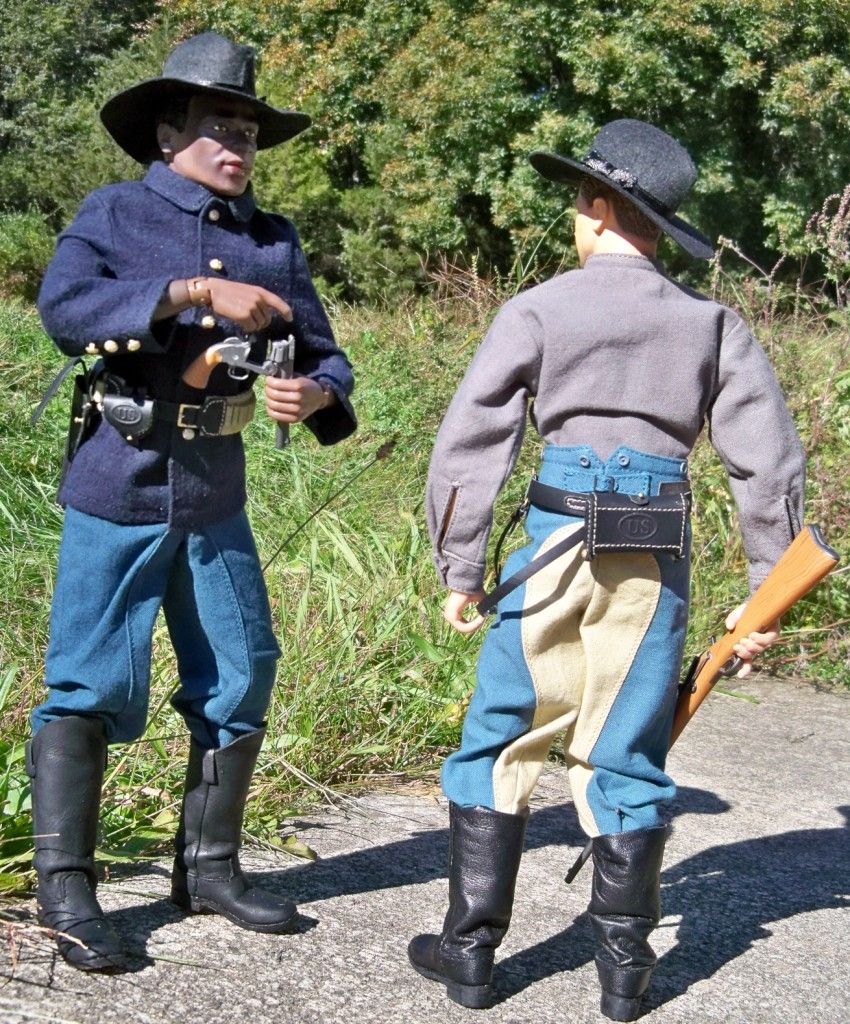 Reinforced trousers are a big addition, and come in several styles. Mounted troops were issued trousers with an extra piece in the seat, and this is the first version in 1/6 since the SST 5th Michigan Cavalry. They come in sky blue and medium blue (for use after 1884), and have an adjustment belt in the back. Both colors come with a "canvas" seat, as many soldiers reinforced their own infantry trousers for campaign, which was especially noted in the '76 campaign. The saddle piece on the BGT trousers does not go all the way to the pants cuff, but ends in a point, but this is covered by the boots.
The 1872 campaign hat is another nice item. Like the original, it is very light and you will need to soak it to get a shape that will stay on a figure's head. I had used the BGT black Stetson for bashes, but all this needs is a little shaping. I also added a crease in the brim from front to back, as this hat was designed to fold flat. There are several styles of boots available, too. The ones shown on the Buffalo Soldier do well for the 1876 boots, with the foot portion a separate piece from the leg, instead of the one piece front. The gray band-collar shirt is perfect for the 1870's. So many soldiers cut the folding collar from their shirts that the army issued them in this style.
Other items are available in the Spanish-American War pages. These include the 1884 5-button blouse (see the Buffalo Soldier), the 1883 pull-over shirt, the 1878 Haversack (listed as a "knapsack"), brown campaign hat and suspenders. One correction should be made, as BattleGear lists the "Y" shaped braces, when the "X' version is the correct style for the 1884 suspenders.
There are other items out now, like the Custer bib front shirt and pre-shaped cavalry campaign hats. Auggie has shown more items to follow, including a CW McClellan saddle tree(!) and an 1870's kepi. I can only hope this will all lead to more Indian War bashes for us to enjoy!