The 1847 Colt Walker was the magnum revolver of the percussion era. It is a massive handgun and was meant to be carried in a saddle holster. When I needed one for my "Lonesome Dove" bash, I had to scratch-build one for Gus. I have a 1/1 replica that made my build a lot easier.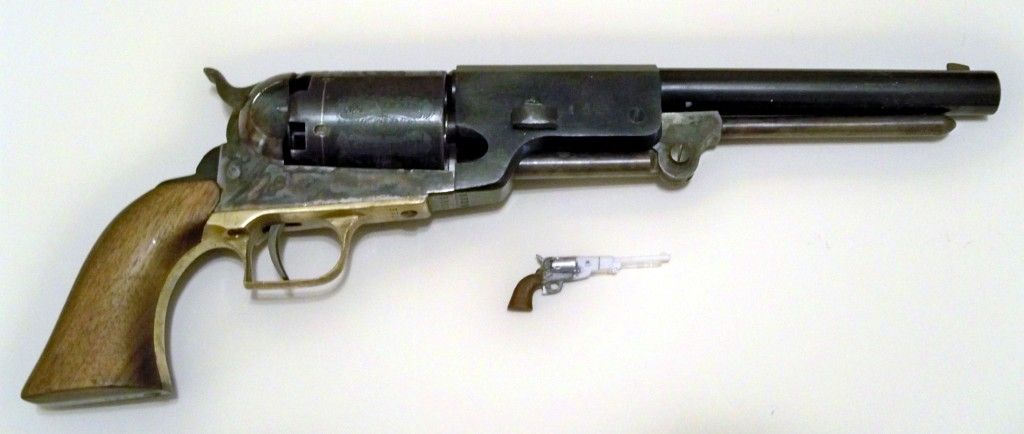 Shortly after, BattleGearToys came out with a Walker, and I had to get a couple. I wasn't disappointed - it was nicer than mine, and amazingly well built. Most of the major components come apart just like the original, and the hammer, cylinder and loading lever all move. There are even thread details on the cylinder rod, and a slot for the barrel wedge, so you can even pose it taken down for cleaning!
Naturally, I had to fiddle with one, and decided to build a 1st Model Colt Dragoon revolver. The parts are all the same, and both came in .44 caliber, but the Dragoon was scaled back with a shorter cylinder, barrel and barrel frame and loading lever. Because the BGT Walker comes apart, it was much easier to cut back the parts, and I was even able to carefully push out the plastic "pin" holding the loading lever in place. After making the alterations, it was possible to line up the parts and push the pin back in. You also need to add a longer forcing cone where the Dragoon's cylinder meets the barrel. I used a tiny length of styrene tube, then filed it down.
The cylinder has individual chambers drilled into the face, and they go all the way thru, so they don't have to be added after shortening the cylinder. I added a tiny piece of styrene to each side to represent the barrel wedge, and shortened the loading lever, notching the end with a tiny file so it will "latch". The only fault I found with the BGT Walker was that the lever has a latch, which the Walker did not have. It was easy to cut it off, fill the end of the lever with super glue and file it to a dull point. Here are two pics of the two revolvers together, before and after painting.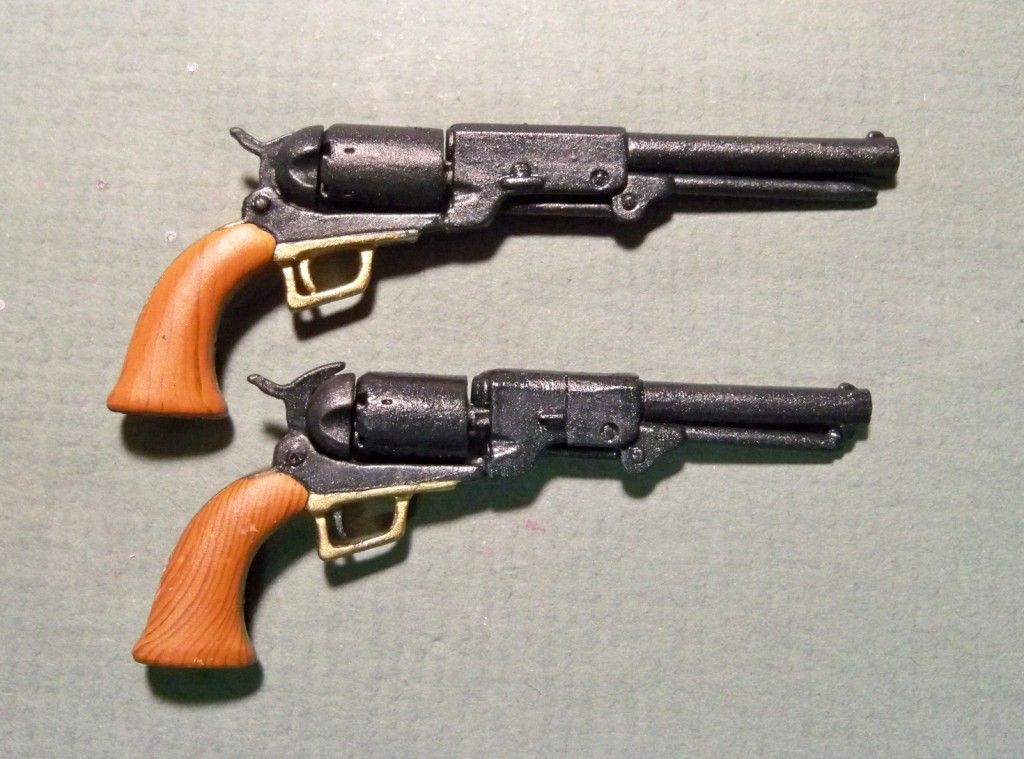 I like the BGT Walker even more than the metal 1851 Colt Navy they make. It's a great gun on it's own, and allows for a pretty simple change into a 1st Model Dragoon!
(An interesting note, at least in the original "True Grit", Mattie Ross has her father's Colt Dragoon. They actually used a Walker to make it look that much bigger in her small hands.)