I didn't expect to buy this figure but a friend saw it on a shelf and ask me to check it out. It was Asmus Toys' Yakuza 3 Kazuma Kiryu which I just happened to be interested in due to the recent Yakazu 5: Of the End zombie killing game set in the Yakuza game version of Japan.
It was also the last one and I've never seen this in HK, so nab it. Cost me ~ 700 HKD with discount since the head was chipped. More info below.
I also decided to compare it with Wild Works/Custom Studios Dream Stalker figure which I didn't put together until now. And Hot Toys/Bandai Char wanted to checkout the new guys with suits so had a cameo in the pictures.
Basic break down - Asmus Toys - Kazuma Kiryu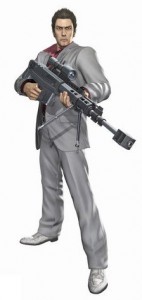 Box
- Very nice box artwork! I love it and the back show that 4 more characters are coming! I am waiting Asmus!
Head sculpt, boots, hands and weapons
- all appear to be resin or polystone. Definitely not plastic injection and I'm guessing this was due to a small run of figures.
Hence when I inspected the box, the head had 3 dinky white chips on it! Luckily, I took a black sharpie and ran over it. Fixed it up but was annoying to drop that much money on a defective product.
Extra hands in the baggy were painted and 2 of them were stuck together! Argh.. Pulled it apart and yes, a small pin head size chip was on one of the hands.
Weapons
included a shorty shotgun, a 1911 (not sure) and a baseball bat. Thats it? For the money there should be a lot more in there! There were tons in the game for instance!!
In the pictures, you can see the details are SOFT! I mean these were 21st Century like in today's market. Even for resin recasts, I think Asmus could have found better donors!
I like the bat though! The polystone / polyresin made it feel heavy like a hefty Louisville Slugger!
Paintjob on the head is not bad. I actually like the hand painted look since it adds to the character. Much better than Sideshow's old painted resin heads or Medicom for example.
But not DID/HT/WW/TTL/Soldier Story/HP or Cian style quality.
I swapped in a
ZY Toys 50 Cal Barret
as shown on the cover of the Yakuza 5 game for the photos. I can tell you the ZY Toys Barret is incredible compared to the weapons from Asmus!
Overall
, QC needs to be better way better! Asmus, contact me if you need stuff recasted! I know someone who does production run style resin casting for a good price and high quality!
Clothing
- the suit looks very close the Yakuza 3 outfit. I love the look on the guy but it needs a better body.
The shirt looks fairly good until you try to fix it for photo shoots or posing. While I liked that it has lined the insides of the collar, there was excess material that was sloppily tucked and sewn in, thus bulges out over the chest! I was trying to get that open shirt look but the extra materials popping out just ruins it. I need to take a pair of scissors and cut that down to fix it. Later.
Body
- I didn't have time to take the close off but the neck is built in and the thighs have extra padding under the pants which makes me THINK it is a Medicom advanced or Volks style body. I am not sure until I do a body swap.
But the joints are terrible. Weak knees and very limited articulation in the shoulder/elbow areas. It is a good size body for Kazuma since he is fairly big in the game, but posability with the suit is not good.
I am not sure if it is the suit holding it back or the body is just weak. I will find a suitable body to swap and update later.
Custom Studios Dream Stalker Produced by Wild Works.
This is Cobb from Inception and I got it with no box since I was going to pose it right way. Left it on the shelf half built until I got Kazuma home.
Head
- I think this is one of the best painted Cobbs head. Nearly DID paintjob quality! I have the Nobody's Toys Dreamcatcher Cobb head (looks like Brothers' Production item) and while I think that sculpt is closer to the movie (I believe Feng did it), the paint job makes WW's version look more alive.
I've also seen the VTS version and it is not bad but this is my favorite so far.
Body
- Standard Toy Soldier Body with flexible hands. While the body is shorter than most bodies, it has a nice build for wearing suits. No floppy joints on this one!
I changed out the hands for Dr Figures' Solex?? style gloves, the ones on HT Seal UDT. These are placeholders until I find more movie accurate gloves but looked good in the setup to me.
Weapons
- this came with Toy Soldiers SCAR-L in tan. You can search for a review of it an while it is still fairly good, it is outdated. Still way better than Asmus' weapons. It was also not the gun Cobb used so I gave Cobb something else to fight with. You'll see why at the end of the pictures.
Pictured is an
Arms Rack MK46 with M4 stock from the MK48
. Details are super crisp and better than DML and CD! But but but... the thing feels so fragile and tolerance is weak. It feels like it is going to fall apart if you sneeze at it.
The mold is sharp! Very clean edges and superb details but the factory needs a good production engineer to help it tighten up the quality.
Fantastic for a display piece, not fun to play with. I hope Arms Rack does not give up and work to improve in the future.
Clothing
- This is probably Wild Work's strongest asset next to their HS. The suit is nice and fits fairly well. The bad is that the shoulder pads inside the suit is too big and bunches up. The tie is a real tie with knot but for some reason, the material makes mine stick up like paper! It is real cloth but is so thin, there is not enough weight to hold it down. I like the shirt the most for the embroidered pattern. It feels like real embroideries with raised surfaces but I am not sure if it is movie accurate. There were quite a few costumes in that movie for Cobb.
The shoes were not so good. While these are sewn, not molded, shoes, the quality of the "leather" is stiff thus making the shoe hard to conform to the surface with nearly no flexibility. Good thing the body was fairly stiff so it held a pose that could stand on its own.
Bonus - Hot Toys/Bandai Char Aznable
What can I say? He still looks fantastic despite sitting in my cabinet for 3 years. The white clothing yellowed a tad but the head and tailoring is still top notch! I think this figure came out in the early 2000s and is a testament to how great Hot Toys is with their production products.
Char wanted to join the fun so I gave him Army's SOCOM AK47. It is resin, before HT made the plastic ones, looks great but is flimsy as heck. Worst than Arms Rack MK46 in terms of tolerance and the main reason why I hate resin guns for playing/posing with.
I think resin weapons are good for display only or prototyping but not as a consumer product. It is way too delicate and you may see spots where I glued down or blue tacked parts. It was what I had at the moment. Will give Char something better when I dig it out.
So I have my Sniper, Assaulter and Heavy Weapons Support specialists. Who needs Kane and Lynch when you have these 3 bad mo fos around?!