Discussion Starter
·
#1
·
Circumstances allowed me the opportunity to order a saddle from Cesar Dubon.
1/6 Scale McClellan Cavalry Saddles
I've already made a couple of McClellan saddles, but I would never try making a Grimsley 1847 Dragoon Saddle, so my choice was obvious. I will go over the saddle in an admittedly biased review, but first, here are some pics of the finished product. I don't have a horse ready that is worthy of this equipment - yet! - but can't wait to show it off.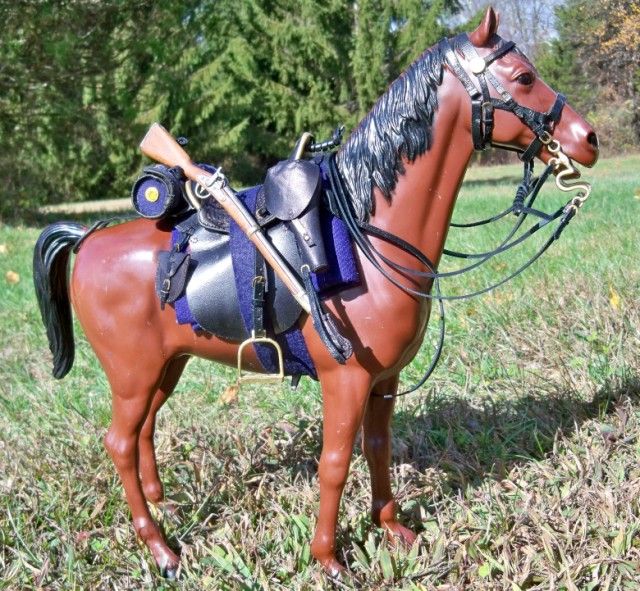 All of the detailed pieces are here, including the saddle valise with company letter on the ends and the carbine boot for holding the muzzle end of the carbine. The shoe pouches are completely correct supended below the cantle, and the coat straps, crupper, breast strap (with heart center piece), girth and surcingle are exact copies of the originals. You can see the detailed stitching in the padded seat of the saddle, which I have chosen to dye black, instead of having the lighter colored thread to make it stand out even more.
For the pommel holsters, I chose to have a pair of holsters, one for the 1st Model Colt Dragoon and one for an 1842 single-shot pistol (yet to be made), as was sometimes done in the 1850's. The holsters include a buttoned flap and ammunition tubes for the single shot percussion pistols. I also chose not to have brass tips, as this is an enlistedman's tack.
The bridle and halter are perfect minatures, and, as with the rest, feature beautiful photo-etch buckles and all of the needed standing loops. The dragoon bit - made for two sets of reins - is a wonderful piece on it's own. Add it to the headstall with heart rosettes and your dragoon is ready for anything.
In many respects, the horse equipment is made like the originals - one at a time by an experianced saddler. The leather is formed around a solid saddle tree, and the edges are bound perfectly in brass reinforcement. The brass stirrups set off the whole piece handsomely.
The 1851 saddle blanket is mine, as is the 1847 cavalry musketoon. As this will end up with an 1850's dragoon, I thought they were appropriate.
I am obviously thrilled with this set of horse equipment, but I wouldn't hesitate to tell you if I had found any short-comings. Having made several Army saddles, both in 1/6 and 1/1 scale, I know the amount of effort involved. Cesar's Grimsley is made from the finest leathers and cut and shaped wonderfully, with all of the necessary details. He will take the time to detail the saddle to your specifications when possible. I completely recommend his product.