It is an amazing time to be a collector of 1:6th scale Ancient Roman action figures. An era long overdue for 12-inch collectibles, Ancient Rome has seen a surge of incredible figures released lately from not one, but two toy companies - both more than up to the task. For those seeking that extra edge in realism, Kaustic Plastik delivers with finely crafted, real metal helmets and accessories. On the other hand,
ACI Toys
caters to collectors of sword and sandle cinema by offering head sculpts that bear more than a passing resemblance to certain movie stars. In our previous review of ACI's "Spartacus 2 - Gladiator of Rome" (
HERE
), the figure looked a whole lot like the late, great Andy Whitfield of the hit Starz series
Spartacus
.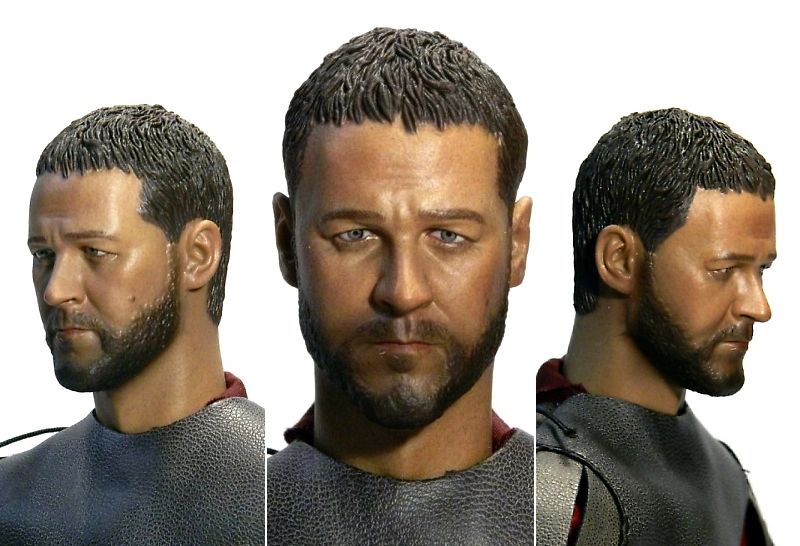 Today's ACI review is no different. Arriving this April priced at around $180, the figure is simply called
Roman General - Roma Victor
. While the figure's name is generic enough, anyone who has seen Ridley Scott's epic motion picture
Gladiator
will instantly recognize this as Russell Crowe, aka Maximus Decimus Meridius. Needless to say, word of mouth on this figure has been immense - so much so that all advance pre-orders have already sold out. If you've already locked in your order, list yourself among the fortunate... this may be the closest anyone gets to owning a
Gladiator
movie figure.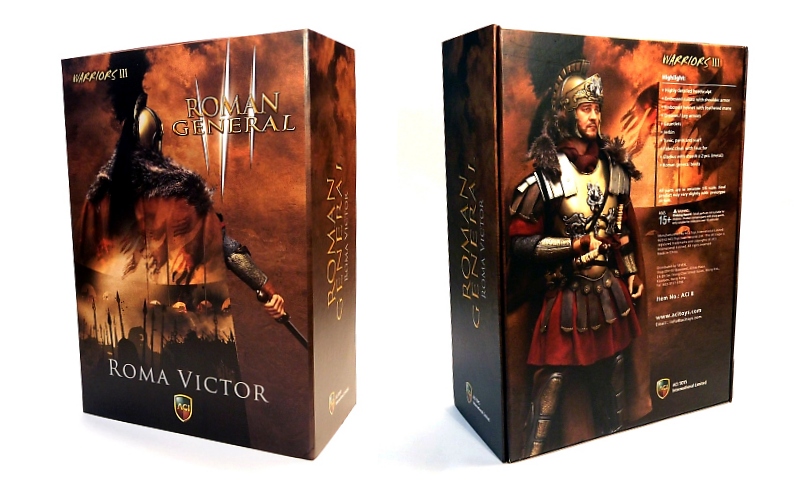 Unlike the mediocre packaging for ACI's Spartacus 2, the Roman General arrives in a box fitting of, well, a Roman General! A fifth panel window box affair, the Roman General's packaging impresses with sturdy construction and an attractive, eye-catching design. Photography on the front shows off a cool rear shot of the general leading his troops to battle, while the back panel acts as a reveal; the Roman General facing forward fully decked out in his regal attire. The back also spends some time listing the figure's equipment, while a powerful introduction to the time period and character is reserved for inside the fifth panel flap. ACI went the extra mile here and used hidden magnets to secure this flap - a very nice touch.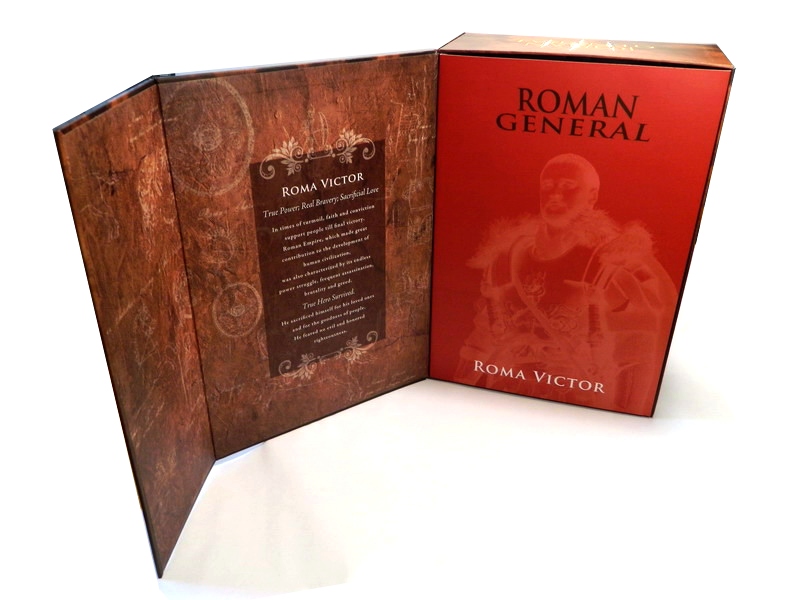 On the "window" side, where one would normal view the figure in the packaging, ACI has added a red cardboard insert featuring a silhouette of the figure. Removing this classy (and protective) cover unveils the figure in its pull-out plastic tray. As with most all 1:6th scale figures, the tray slides out from the top of the box for easy retrieval and future storage needs. When all is said and done, I can't believe this is the same company that did the packaging for Spartacus. While the box for that figure was more than adequate, the extra work ACI put into the Roman General's packaging speaks volumes about the fine collectible inside.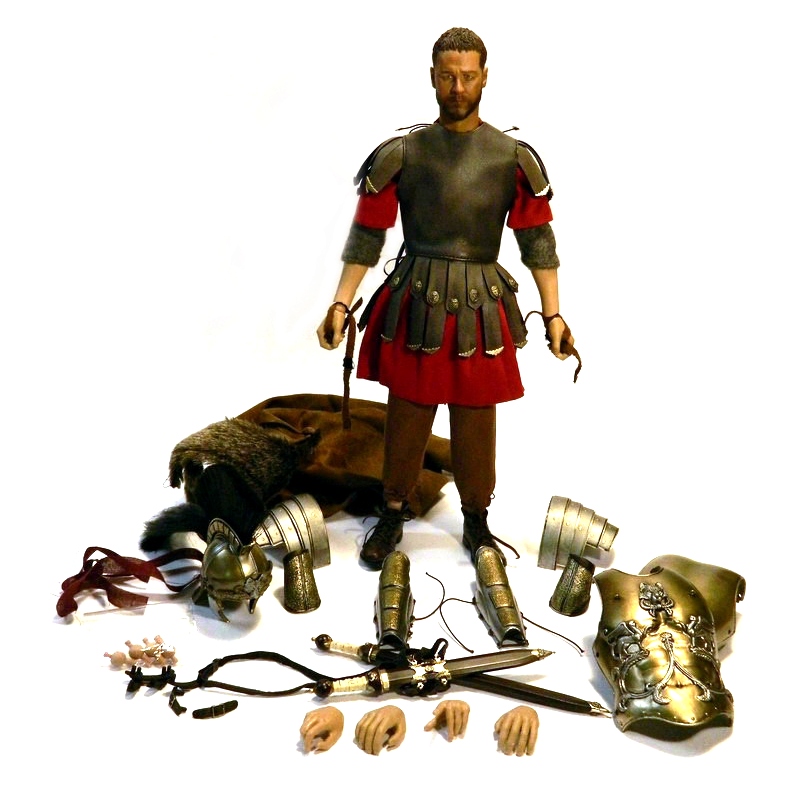 At this point, the anticipation of getting this figure in my hands is killing me. You know the feeling - that euphoric high of opening up a new toy. Alas, freeing the Roman General is a very sobering experience. Once removed from the packaging, you'll note that the figure comes with a plethora of clothing and gear... none of it actually on the figure. I take that back, the figure isn't completely buck naked - coming decently dressed in a basic outfit. However, those underlying garmets are a far cry from the fully armored Roman General you were anticipating to admire. That's right gang - it's time to play dress up with my man Barbie...
I don't mind putting accessories on action figures, I really don't. But when I have to put an entire outfit on a figure, it begins to test my patience. I'm talking about tying tiny shinguard strings and threading belt buckles the size of pinheads type of testing-my-patience. I might be slightly over exaggerating the situation for dramatic effect, but in all honesty - getting the Roman General fully kitted up was not a pleasurable experience. To ACI's credit, an illustrated instruction guide is included which walks you through most of the ordeal. First it shows you how to properly place on the Roman General's upper torso armor - awesomely detailed with winged griffons and a wolf's head. Cast in two halves, the bronze colored body armor fits together over the figure like a shell and is secured on the top and sides by the use of
little plastic buckles
. These attach via a peg and hole system, and though relatively secure, collectors may want to apply a dab of glue for a more solid connection (I don't plan on
undressing
my figure again, so that's what I did). Next comes the shoulder armor. These pauldrons
plug into holes
located at the top of the body armor and are held snug by two tiny hooks that latch onto the front of the chest plate. I was actually rather impressed by this feature as it's something that I could see a real Roman warrior doing. Next you'll have to pop off the Roman General's hands and feet off and slide on the vambraces and greaves. The former simply slip on, while the shinguards are a struggle, requiring you to loosen the laces and tie them once in place. There is also a piece of material - a sash - that must be tied around the Roman General's waist.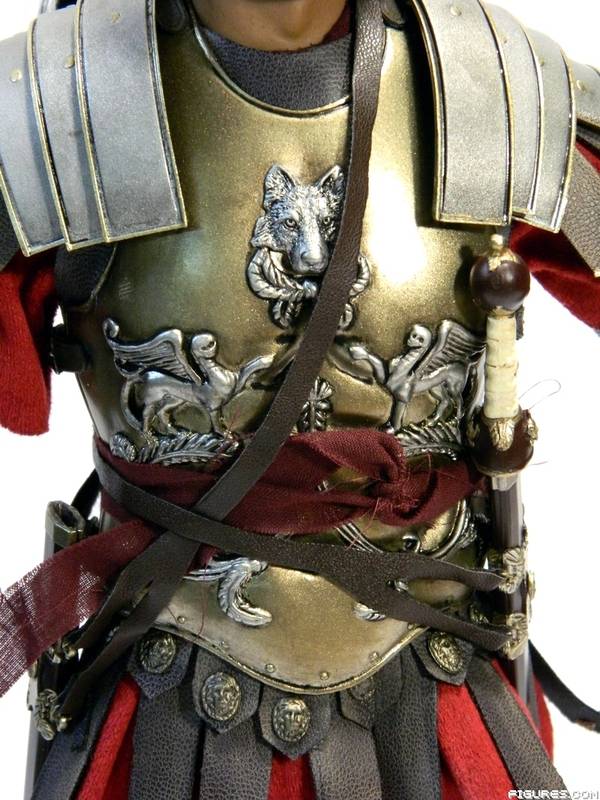 Next comes the Roman General's sword and sheath - the world conquering gladius. Included are
TWO
such weapons - the more commonly seen short sword, as well as a unique gladius with a long blade. I imagine this weapon was reserved for higher ranking Roman soldiers, such as a general. While ACI does not use real metal as liberally as Kaustic Plastik, they do include die-cast swords with their figures. The material lends the weapons a fantastic heft and feel - nice and pointy, just like a real sword should be. The long sword's sheath attaches simply enough by slinging over the figure's head and shoulder. The smaller sword sheath, however, requires you to unbuckle it, wrap it around the figure's waist, and
rebuckle
it. Sadly, how to place either of the sword sheaths on the figure isn't illustrated in the instructions, instead requiring you to observe the figure photo on the back of the box. Common sense also dictate's how these go, but having to unbuckle the smaller sword's belt was an unexpected obstacle that could have been handled better (such as using a snap or hook).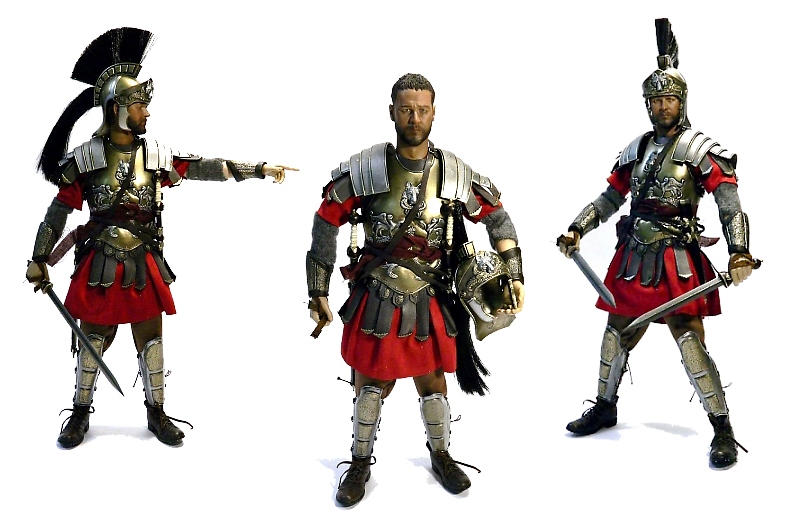 We're almost there! At this stage of dressing the figure, the Roman General is ready for basic display and battle. Collector's can feel good knowing that their figure is nearly complete. There is certainly a "bonding" element to this collectible - the lengthy, tedious dressing of the figure equalling a closer attachment to owner and toy. But we must push on!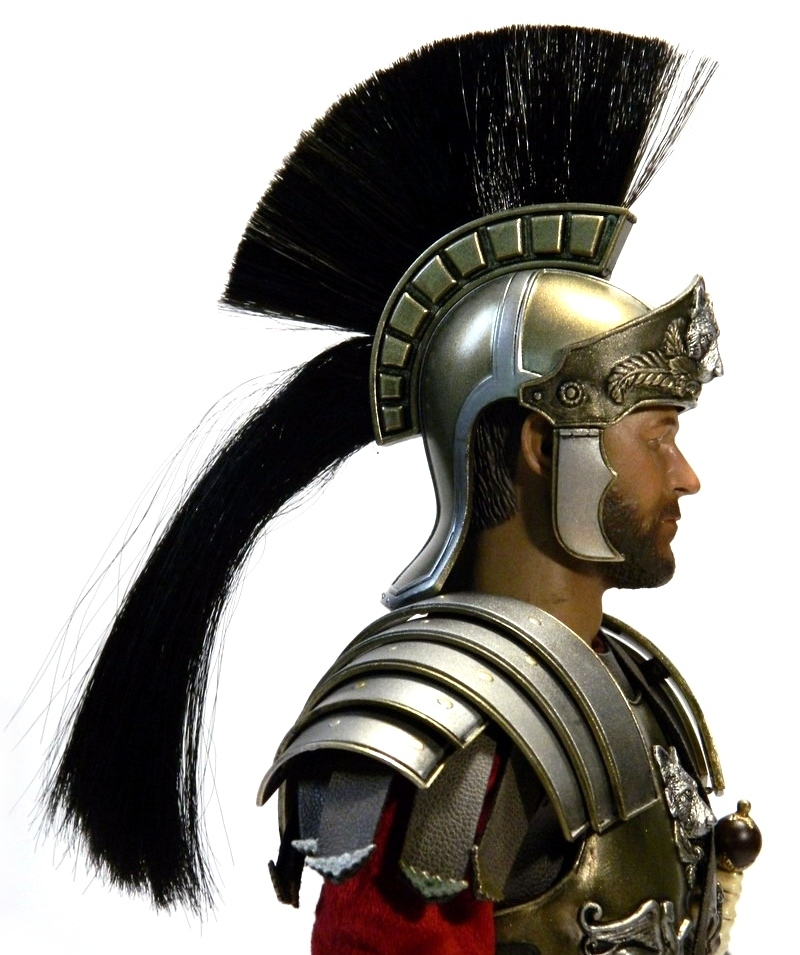 One of the coolest accessories is the black maned helmet. Putting this awesome piece on the figure is like placing a cherry on top a cake - the piece de resistance to an already stunning action figure. It is made of plastic, but the detail on it is fantastic - the wolf's head motif really tying everything together. The gorgeous mane, which is made of synthetic hair, holds its shape remarkably well and is trimmed to perfection.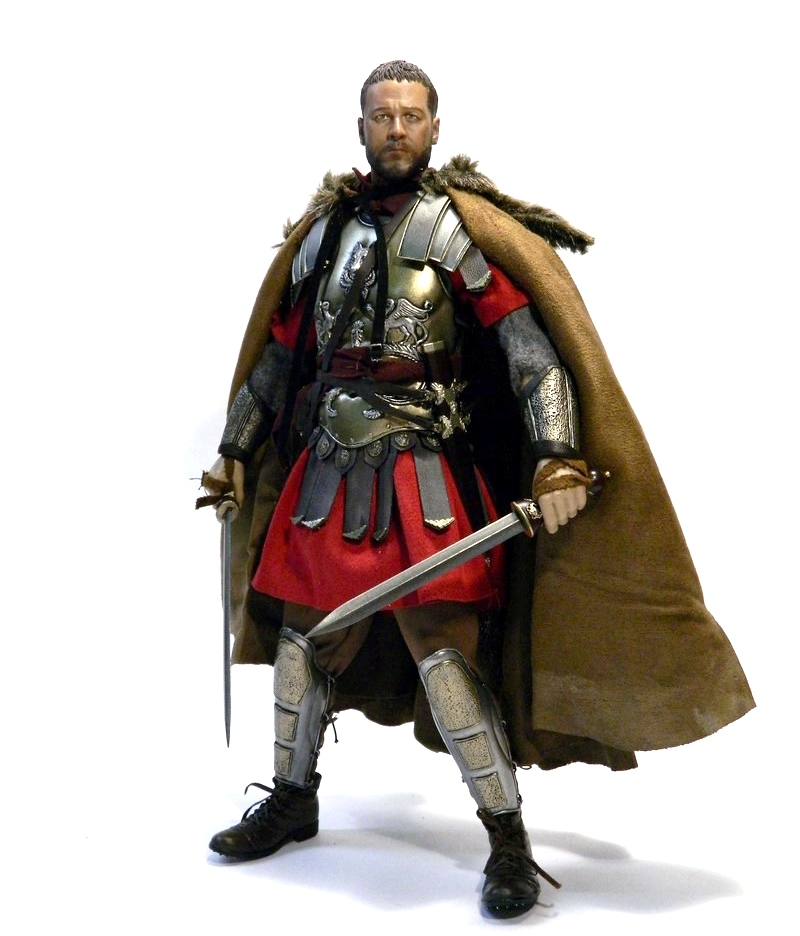 Lastly, a faux leather, faux fur-lined cloak is included. This piece of clothing is optional, but I feel it elevates the figure to a new level of importance - like a superhero and his cape. I almost forgot, ACI also includes numerous interchangable hands. There's the usual suspects, such as fisted and weapon grasping, but a pointing/ commanding left hand adds some nice variety. Stripes of thin "leather" are included for the hands, makeshift "gloves" for the Roman General to better grasp his weapons with. These simply wrap around the hand and attach via a small piece of Velcro. The stripes are easy enough to put on and take off, though I found it easiest just to settle on a pair of hands and stick with the look.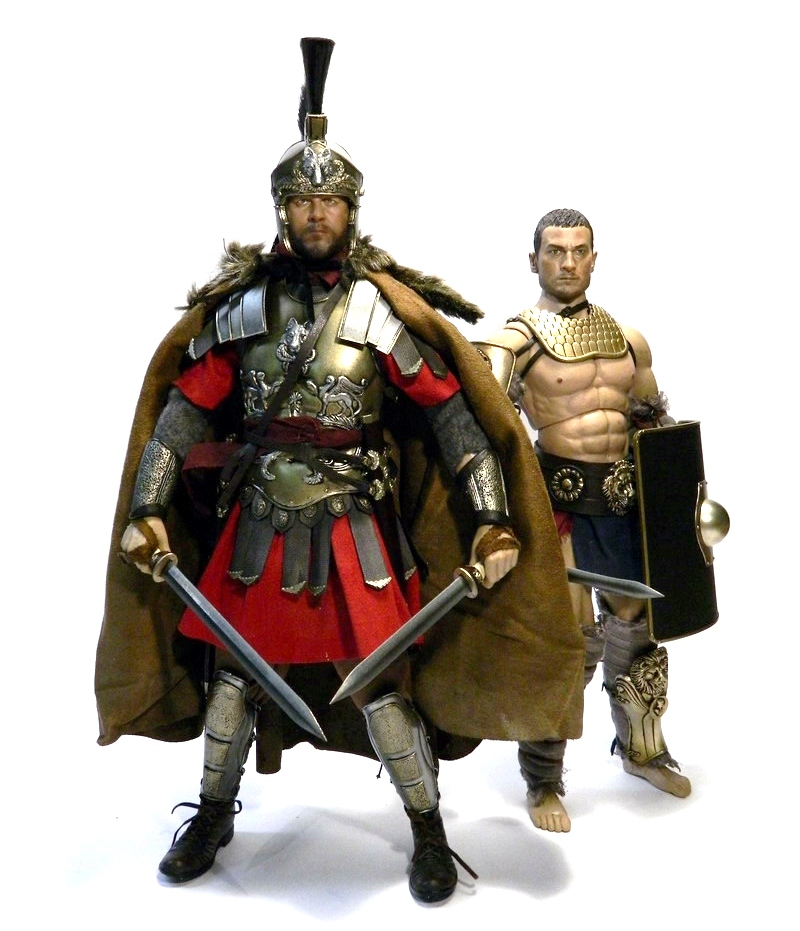 A
Gladiator
figure that's not a
Gladiator
figure, ACI's Roman General is a stunning addition to any collector's Roman army. While infinitely more frustrating to dress than than ACI's streamlined Spartacus, the end result is very satisfying. It's not something I want to do on a frequent basis, but yeah, there's a deep level of contentment from unboxing this figure to finally placing him on display. ACI may not win any awards for "Best Named Action Figure," but their Roman General is Oscar material. Grab 'em if you can find him.
For more on ACI's ancient Roman figures, be sure to check out our review of
Spartacus 2 - Gladiator of Rome HERE
!
Review and Photography by Jeff Saylor

Review Sample Courtesy of ACI Toys