Re: 3Rd SFG (A) Crisis Response Force, ODA 3225 Team Sergeant-VIP Demo Ft Bragg
Although he is very obviously in superb physical condition, (the KP muscle 'athletic" body was chosen for this very reason), time has passed and rank is going to do what the various combat and training injuries could not.
This assignment could be his last at the tip of the spear, before he heads up to a Company or Battalion Operations NCO position, or to the John F. Kennedy Special Warfare Center and School as an experienced training Senior NCO.
Since this was just a demo mission and he is "meeting and greeting" with the VIPs (probably US Senators that control the DOD purse
) he is proudly wearing his green beret with the 3rd Group beret flash. His shemagh, although not an authorized item stateside, is a touch of personal "flare" he knows the VIP visitors are going to appreciate as part of the SF spirit, even if his CO grumbles a bit about it....
His load out signifies that he was leading an assaulter team, during the demonstration and is very personalized in typical SF fashion.
He is wearing a privately purchased LBT 6094 Plate Carrier in Mulitcam, instead of the standard SF issue RBAV and MBAV, with an LBT battle belt and an assortment of newer and older pouches.
His weapon is the Mk-17 7.62 battle rifle with the short CQB barrel, an AAC suppressor and the EGLM Grenade Launcher attached to it. On his back he carries the DBT assaulters pack with special pouches for Flash bangs, rifle magazines and straps for breaching equipment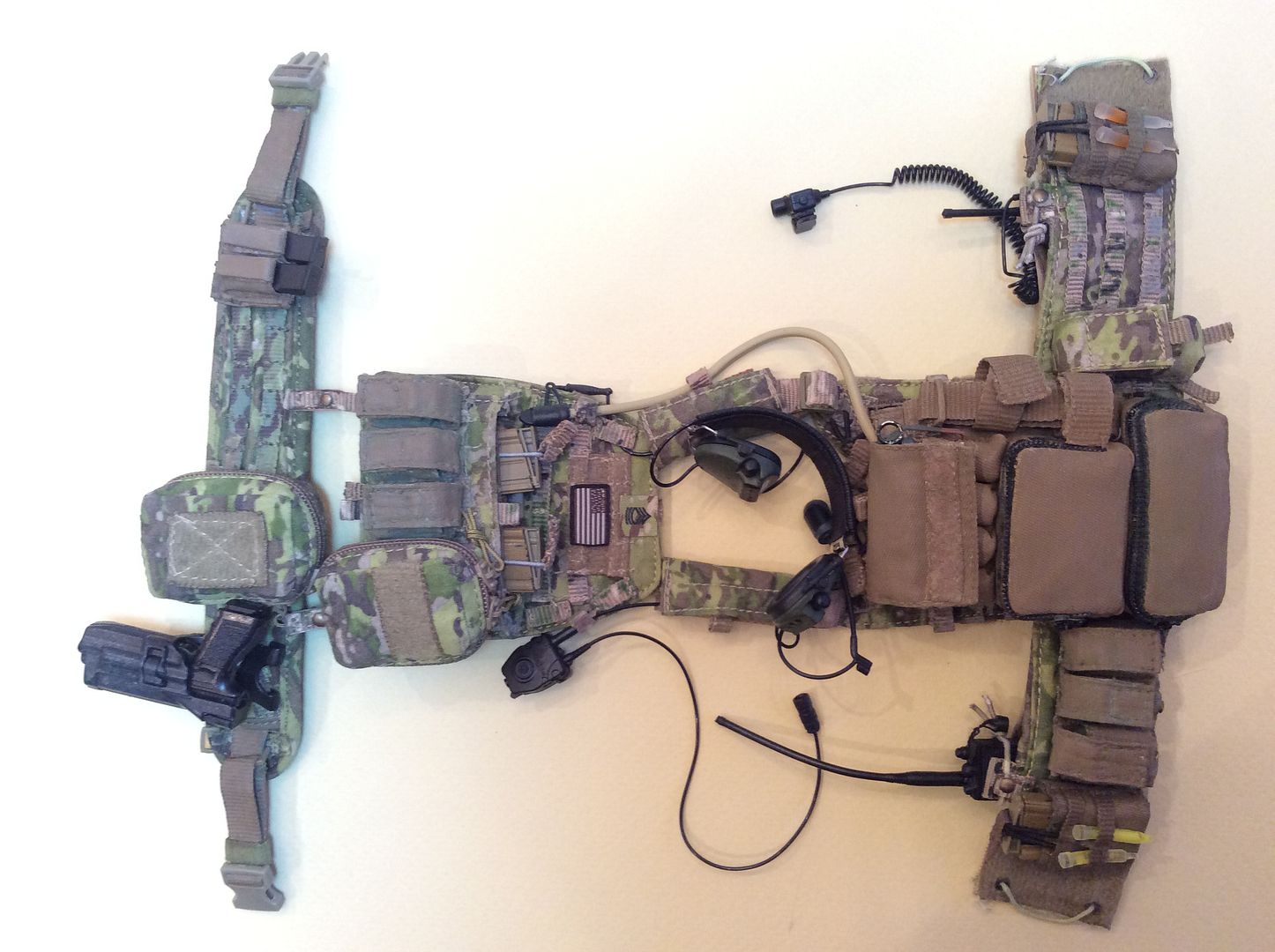 But the VIPs usually want to see and learn about the tools of the trade, so here he is giving them the low down on the main weapons CIF is using for CQB and sniping, from the Mk13 Mod 5 .300 win mag, for long range targets (in this case equipped with a 3-20X Schmidt & Bender Scope) to the short barrel Mk18 carbine, for CQB.
Lastly, a short briefing to the VIPS on the breaching and clearing equipment from the more or less sophisticated explosives to the old fashioned sledge hammer, together with helmets, NVGs and other equipment.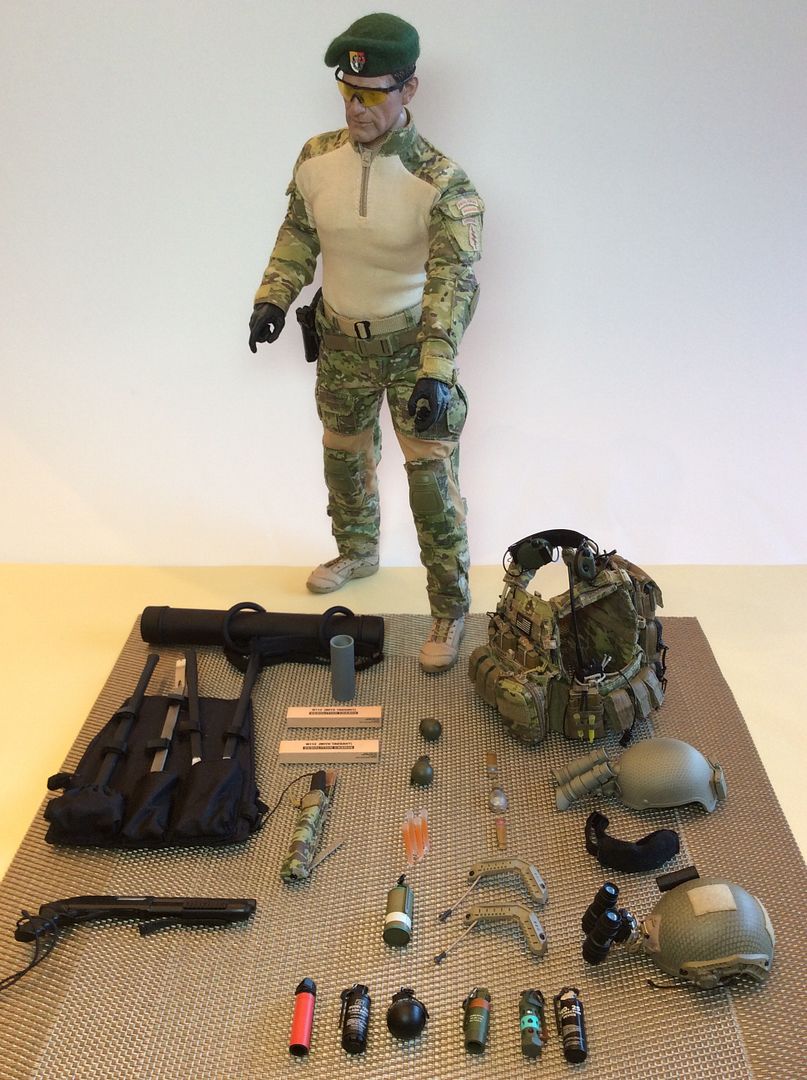 PARTS LIST
Body: KP Athletic
Head sculpt: SS USMC 2nd MEB in Helmand (Aaron Eckhart)
Green Beret: Custom made by
Banjoman1000
on ebay
3rd group Beret Flash:
www.patchesofpride.com
,
Ballistic glasses: Unknown
Shemagh: BBi
Radio set: U-94 PTT for MBITR Radio X 1 (all from DID SBT set)
Comtac PTT For MBITR Radio X 1
Multiband InterIntra Team Radio (MBITR) speaker X 1
TK-5400 Portable Radio X 1
Crye AC Uniform, MC : SS (75th Ranger)
Custom shoulder patches and rank insignia:
www.onesixthscaleking.com
Gloves: Soldier Story
Oakley LSA Assault Boots: SS SF FAMCON
First line gear
LBT battle belt, MC: ΖΥ Τoys NSW sniper set (inner belt repainted Coyote)
Double pistol pouch: unknown (repainted Coyote)
E&E pouch, MC: SS USAF PJ Type B
Flex cuffs
BH Serpa Level III Light bearing Autolock holster: Playhouse SF CJSOTF-A
Glock 17 pistol: Playhouse SF-CJSOTF-A
BH Night ops Xiphos NT weapon light: Playhoyse SF-CJSOTF-A
Second line gear
LBT 6094A Plate Carrier, MC: SS USAF PJ TYPE B
LBT 7.62 mm insert Pouch: SS USAF PJ Type B
2x triple 40mm pouches: Merit accessories set (repainted CB)
Medical Pouch, MC: SS USAF PJ Type B
2x DBT 7.62 single SR-25 pouches: Old TS(?) pouches (repainted CB)
Smoke grenade pouch MC: SS USAF PJ type B
Third line Gear
DBT Battle lab Removable assaulters' panel: SS EODMU-11 (repainted CB) modded with inserted hydration bag and tube
Primary weapon
FN MK-17 (SCAR-H), caliber 7.62 mm, with 13 inch barrel and AAC suppressor: SS (SF FAMCON)
FN EGLM 40 mm grenade launcher (SS USAF PJ Type C)
*The EGLM pistol grip part was replaced by
a 3D
printed direct attachment module (designed by our fellow members
Delusional and General Sam
), painted FDE
EOTECH EXPS holographic sight
EOTech G33 3X magnifier
AN/PEQ-15A Dual beam aiming laser device
GL aiming sight
Insight M3X weapon light (SU-233/PVS)
Dual button remote switch
Equipment Presentation
M-110 Semi-auto Sniper Rifle with Leupold MK4 3.5-10X40 (E&S)
M4 MK 18 SOPMOD Block II with EOTech Holo sight (modded DAM M4 with SS ACS stock)
M4 SOPMOD II 14.5 inch with M-203 Grenade Launcher, ACOG RCO 4X with DR Red Dot
MK-13 Mod 5 .300 Magnum bolt action Sniper Rifle with 3-20x50 S&B scope ( both E&S)
MK-17 16 inch barrel with SpecterDR 1.5-6X scope (SS PJ Type B rifle with E&S scope)
MICH-2001 helmet with AN/AVS 9 NVGs (SS SF FAMCON)
OPS CORE FAST Helmet with NVG-15 (SS)
Manta strobe
V-lights
M-112 Demolition charges packaged (from onesixthscaleking.com)
Strip charge (Soldier Story)
Strip charge pouch (BRA Toys)
Breaching Tools (Bolt Cutter, Halligan Bar, Hammer)
Blackhawk Dynamic Entry Tactical Backpack
Blackhawk Dynamic Entry Monoshock Ram
DBT Battlelab breaching tools holder/tube (SS EODMU)
Remington 870 breaching Shotgun (SS FBI HRT)
Various grenades and distraction devices
Chem Lights
-----------------------
This is it gents, hope you enjoyed it!
As always your comments and feedback are warmly welcomed. Thanks for looking :thanks