British soldier early 1960s.
This is just a bit of fun ,outside my normal time period, that fell together from some spares I had collected, after a discussion with a friend about how one could remake the 1960s toy " Tommy Gunn "( a sort of British based version of GI Joe) as a more upmarket Action Figure, using parts already available. He conveniently adds a decade to my " History of the British Soldier in 1/6th " , so I shall keep him.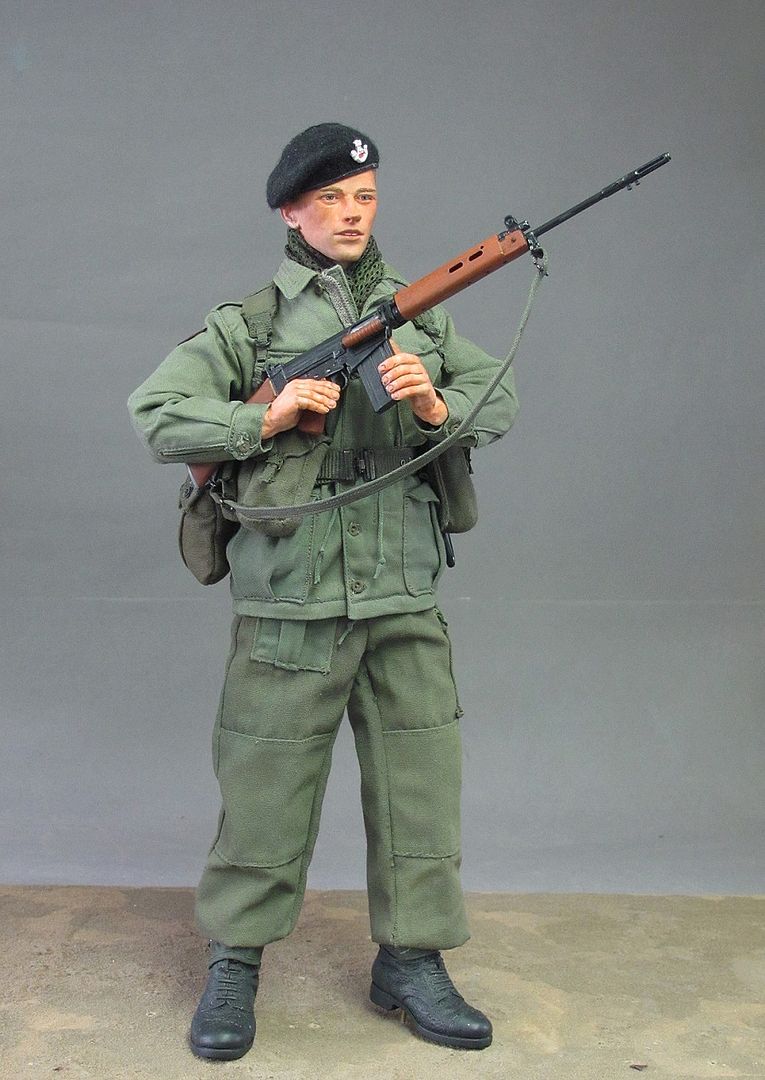 As a boy, the local soldiery who occasionally visited my school looked like this, and some of my older schoolmates actually joined up in the 1960s, and this is how they were equipped.
The outfit is the 1950s green combat suit, created in a hurry as a virtual copy of the US M43 suit, which to their embarassment the British forces rushed to Korea in 1950 had to beg from their Allies to cope with the vicious Korean winter. By 1951 these were in UK production, and remained, with a couple of minor adjustments, the usual combat dress well into the 1960s. The more familar DPM camouflaged dress started to replace them in about 1970.
The webbing is the 1958, with the 1944 pattern waterbottle. The helmet is still the MkIII or MkV, externally identical, and the rifle is the early pattern of the L1A1 SLR.
*****************************************************************************
Making the figure
The 1950s combats are retailored from the Soldier Story Korean War M43, with all the pockets moved or replaced, and the trousers widened.
The 1958 webbing is from Barrack Sergeant repainted, and with a scratchbuilt 1944 bottle carrier.
Rifle and bayonet from DML " Graham", with the rifle re-detailed and painted as the early type with the wooden furniture.
New webbing sling .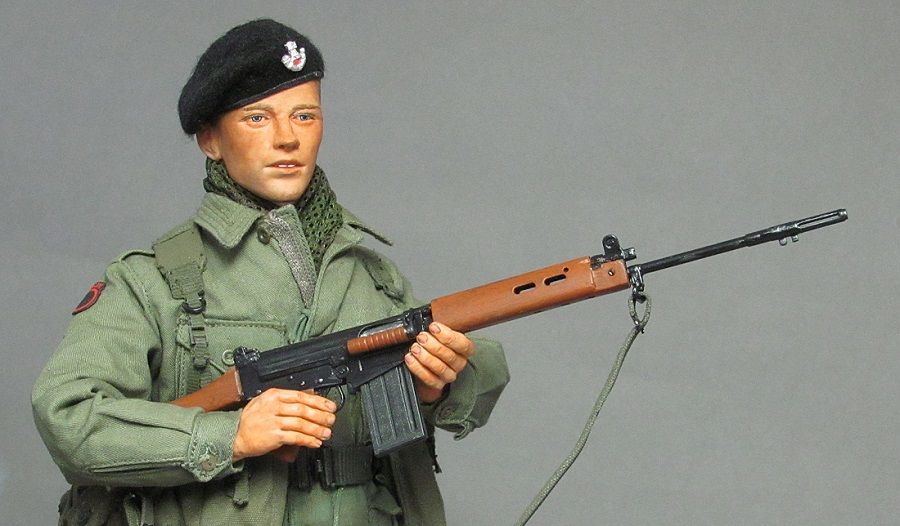 Boots Dragon DMS type, carefully tapered at the top by removing V slices to make the ankles narrow, then puttees to cover that from brushed cotton.
Helmets were issued, but it seems rarely worn.
*********************************************************************************
He might be serving either at home or in Germany. I've plumped for the Somerset & Cornwall Light Infantry, a recently amalgamated Regiment that served in Berlin from October 1963. As a cadet I briefly wore their cap badge.
They were stationed at Brooks Barracks in Berlin from Oct 1963 for two years, as one of the three Infantry Battalions of the Berlin Brigade.
I've found some pics of them online , and I have added the Berlin Brigade patch on the right arm.