Discussion Starter
·
#1
·
40th Foot 1794
This figure is part of my attempts to make a typical figure for each decade of the British Army's history. This loopy idea , a dolly per decade, at least gives me something to focus on, and actually has proved so far to be quite a good stimulus to research.
The Revolutionary Wars ignited by the French Revolution found the army in a fairly decrepit state, with widespread corruption at every level ( 12 year old colonels and so on ). Some Regiments were in good order, some not , and despite some good battlefield performances, the campaigns fought in the 1790s were mostly disasters .
The 40th Foot ( 2nd Somerset, but the regional tag didn't mean much ) were involved with many of them.
The regiment's first deployment was split, with its battalion companies fighting in Flanders and Brittany, and its light-infantry flank companies deployed to the West Indies.In 1794 the centre companies went to Flanders to reinforce the Duke of York's Army on the Franco-Flemish border.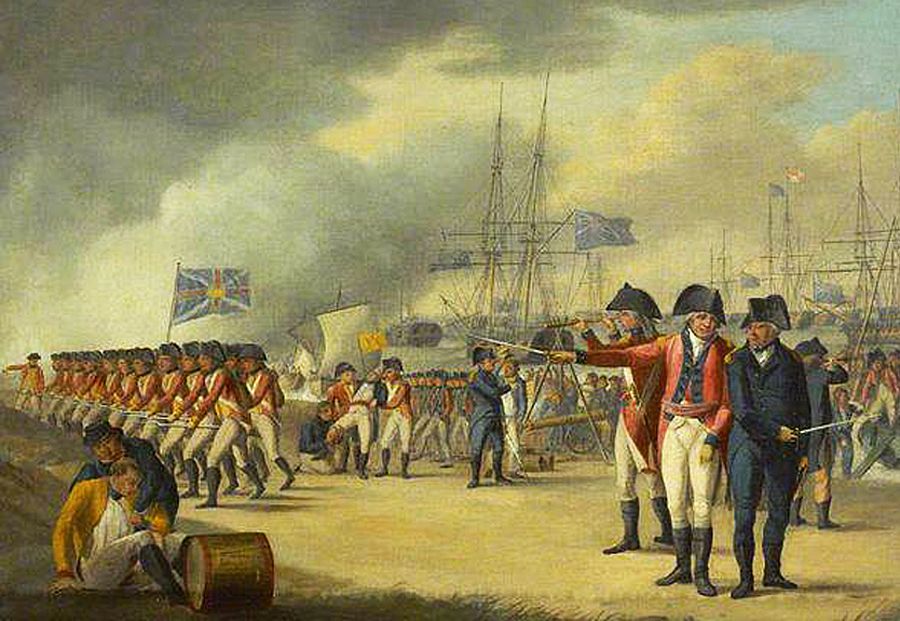 My figure shows a Battalion Company man in Holland in 1794, where they landed in June. This was generally regarded as a dreadful army, which suffered from untrained criminal recruits, and an appalling commissariat which failed to keep the soldiers fed and clothed, particularly in the winter. The Duke was an affable and popular young man, but no general, though to be fair he was badly let down by his allies.
Largely as a result of the chaos he experienced during this campaign , he vastly improved efficiency when he later became Commander in Chief.
Here 's our man, fresh of the ship in clean regimentals: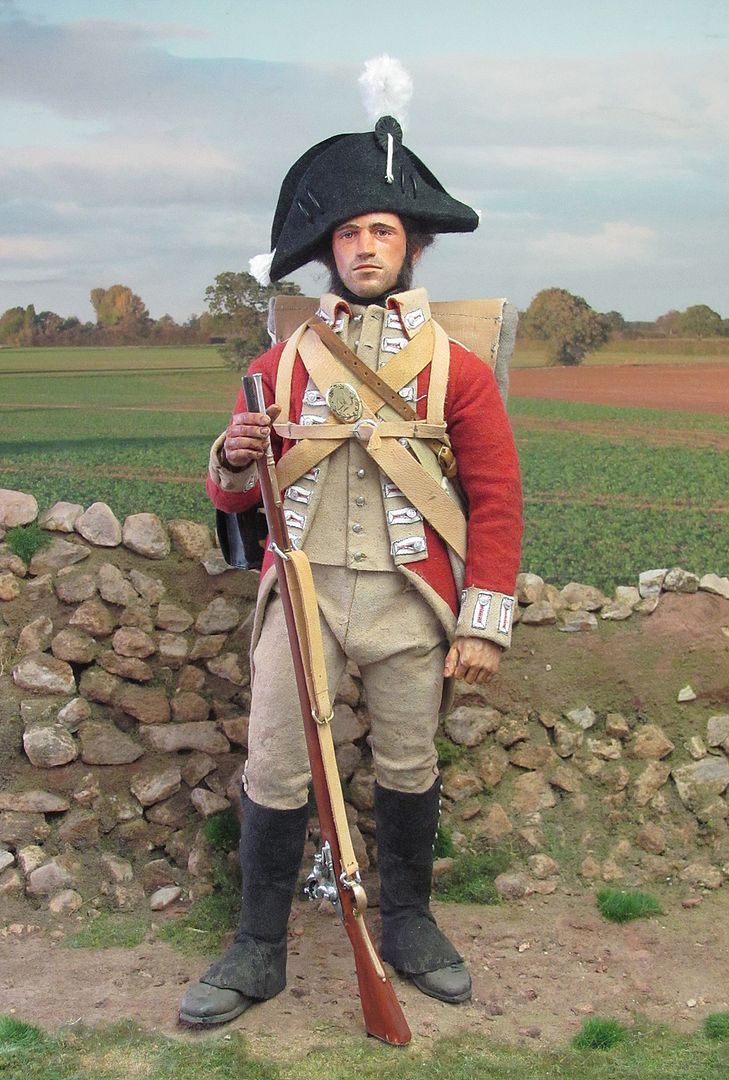 This is not a period that's much illustrated at all, unlike the later Wars from 1800 onwards .In essentials the outfit is the same as worn during the American War up to 1781, with a few style changes starting to creep in. It very much conforms to the style worn by the other European armies.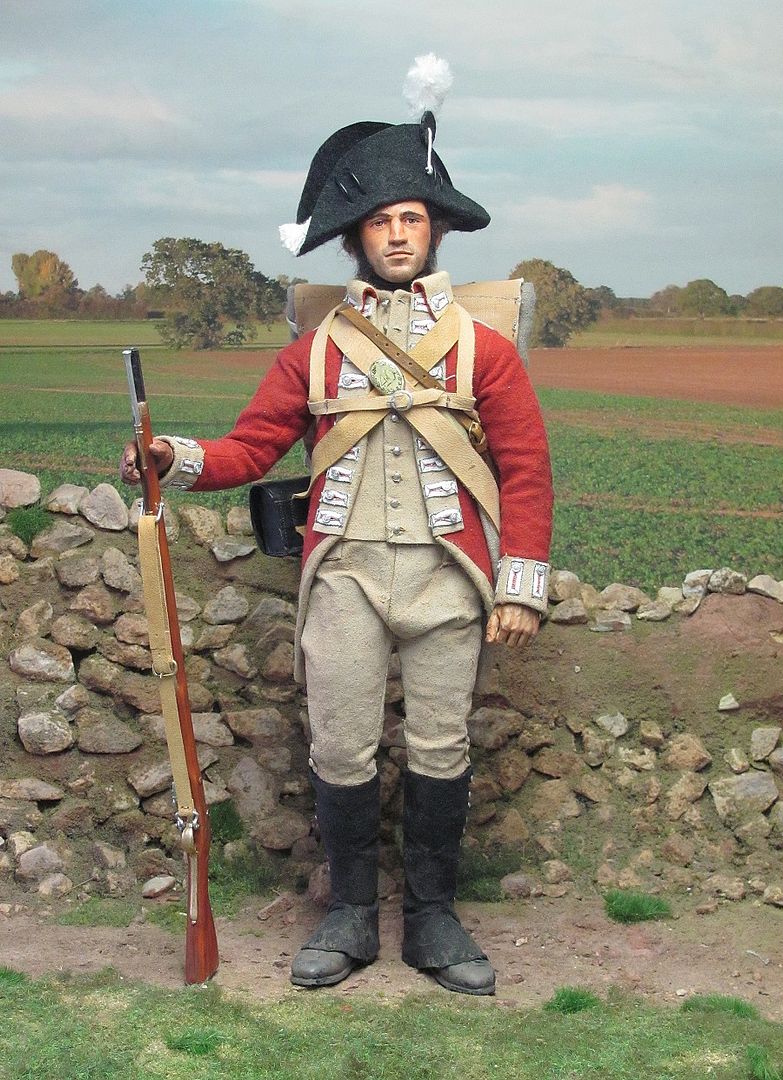 The coat is largely the same, some units having upright collars, some rise-and-fall as here, but the gaiters and waistcoat are shorter, and the hat has lost its lace and its front peak to become a true bicorne.
Hats in one "cock" or another had been worn since the 1640s, but they would not last into the new century, being replaced by the shako from 1800. Keeping it on was always a problem ,and a thin tape was often worn tied under the hair.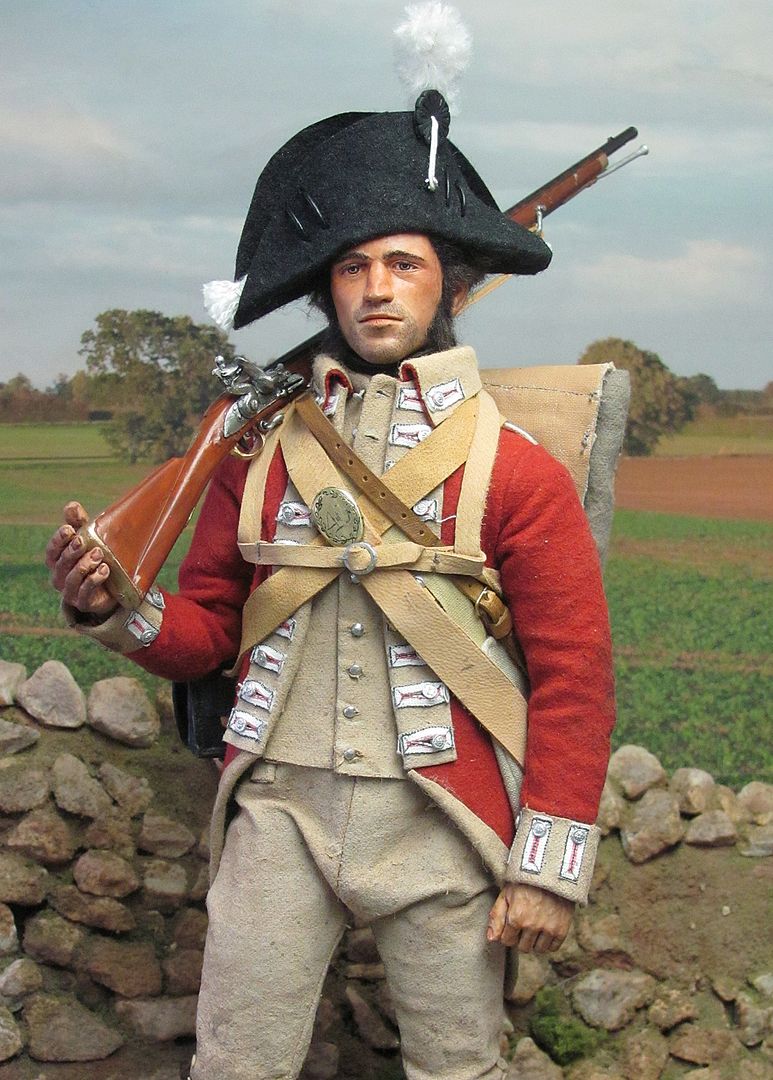 The equipment in unchanged with pouch and bayonet, the pouchbelt over the shoulder with an engraved brass plate on the chest. The knapsack, of painted canvas , contains a blanket ,a spare shirt etc and cleaning materials. As a buff-faced regiment, all the smallclothes and buff leather are coloured to match, rather than being pipeclayed white as in most other regiments .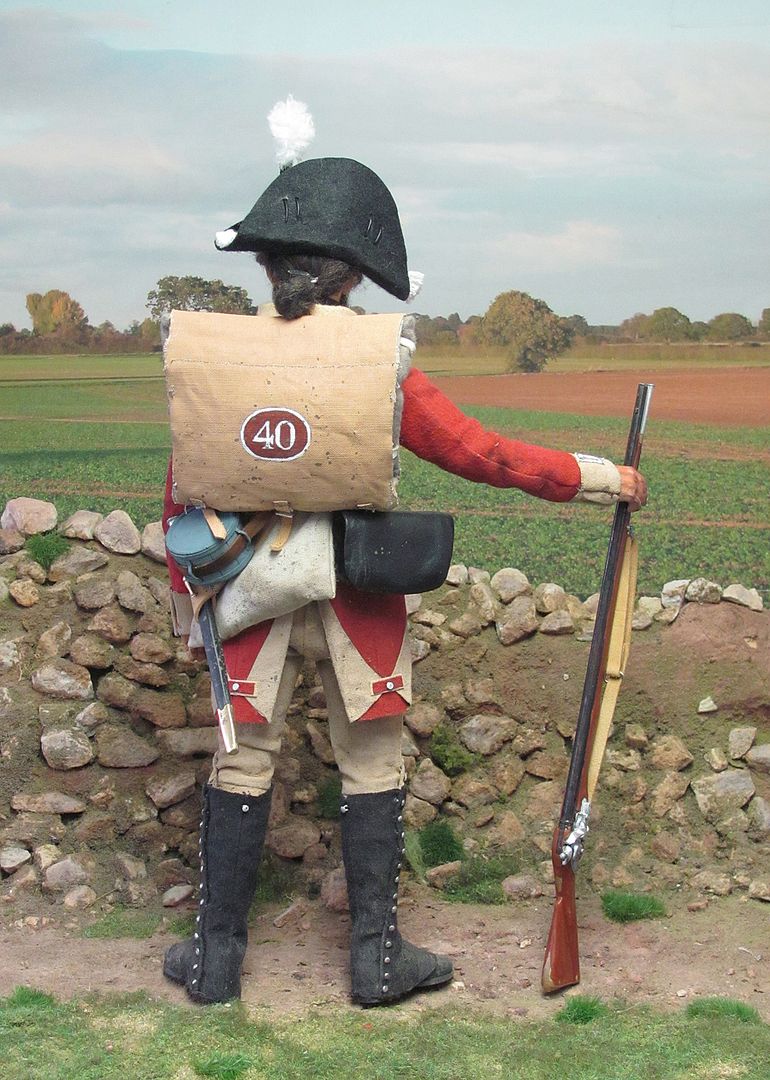 The musket is the Short Land, with the 42" barrel.
Haversack and waterbottle were issued for campaign, and contained whatever he could get, which was often not much in Holland , though cheese and the local gin would be popular. The blue painted wooden canteen was a new design, replacing tinplate ones used earlier, and was to last until the 1870s. It was heavy and leaked.
He is noticeably hairy : long hair was still mandatory ,and for a centre company man worn in a club secured with a small strap. Side whiskers were also prominent in this decade.Hair powder was worn on all parades, but not bothered with on campaign , save by some officers .
I've not been able to bring myself to destroy his outfit to show the rigours of soldiering, but many of the uniforms fell apart, because they were so badly made, and the men had to make shift with whatever they could find locally.
A final pic by the campfire, in the leather forage cap worn for work and off-duty.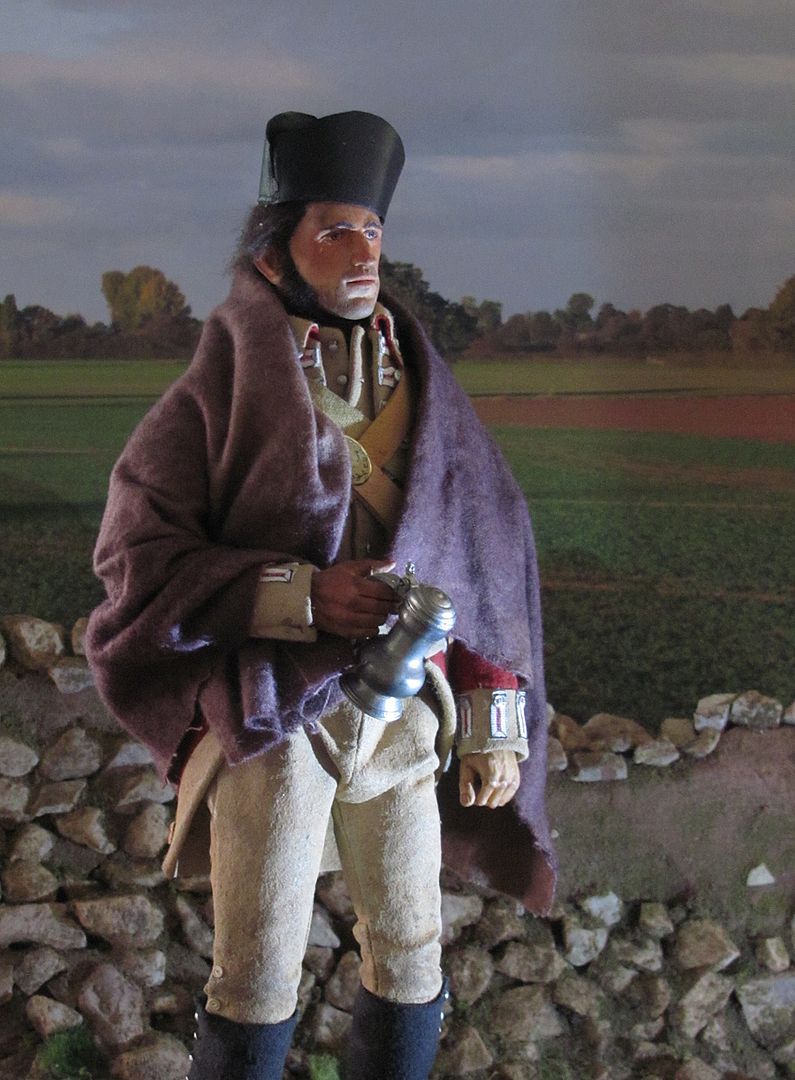 ***********************************************
As usual , everything homemade apart from the DML body inside. This one took quite a lot of reading to put together, because there is so little contemporary visual material.
*****************************************************************