There's no doubt writer/producer/director Zack Snyder's last film –
Sucker Punch
– was a mixed bag. Harshly criticized by some critics and defended reverently by some of Synder's rabid fans, the film featured an oddly twisted, convoluted, and somewhat confusing storyline complimented by scantily clad beautiful women wielding guns and swords, gorgeous special effects, and a variety of genres including steam punk, fantasy, wuxia, and sci-fi.
All the complaints aside,
Sucker Punch
no doubt featured some of the most impressively detailed costume designs thus it's no surprise
Hot Toys
jumped the license and brings to life two characters in 1/6th scale:
Babydoll
and
Amber
.
PACKAGING: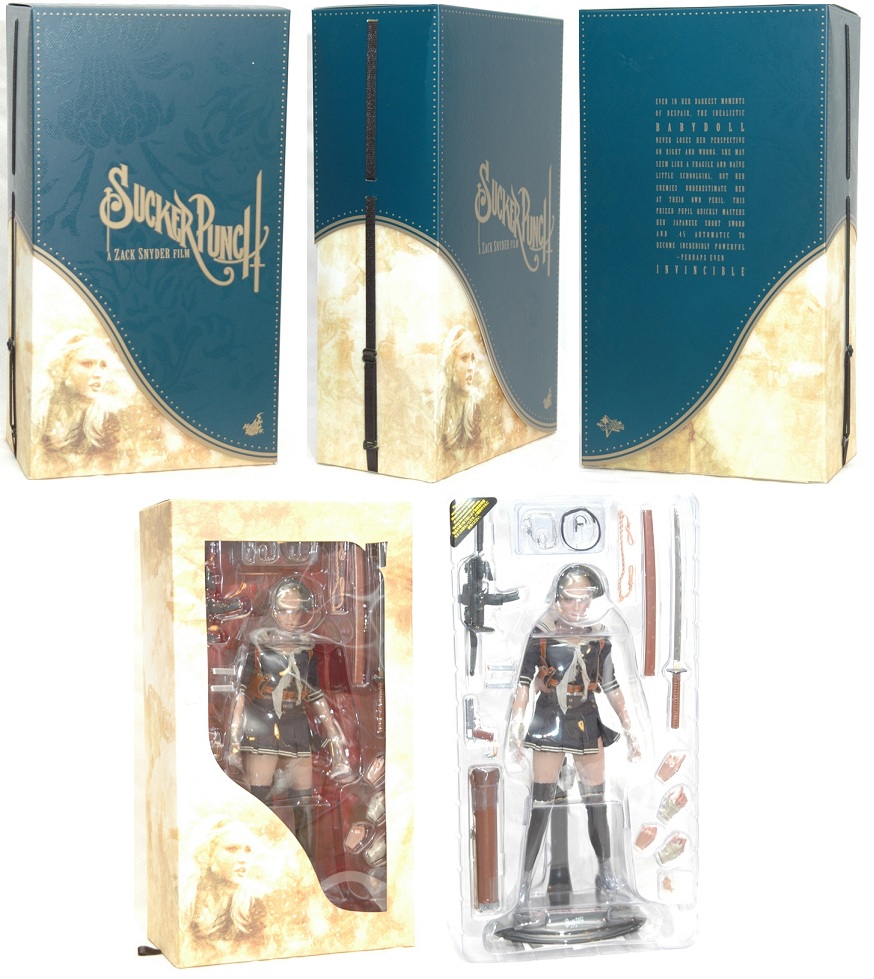 Both figures come packaged in a thin but durable window box with sleeve. The blue sleeve, which partially covers the window box and allows some of the main box's tan colored graphics to be seen, features the film's title,
Sucker Punch
, and "A Zack Snyder Film" in script. What makes this box unique is how the sleeve is held in place. The sleeve is held in place by a garter belt which wraps around the box and must be unclasped to access the figure inside. This goes along with the characters' costuming and, while a seemingly small detail, it makes a substantial difference in the way it's received by fans and collectors. Honestly, this is one of the coolest and most original packages from
Hot Toys
in quite some time.
Inside, the figure is held in place by a molded clear plastic tray which ensures the figure and the numerous accessories remain in pristine condition until they're opened and taken out for display. Overall, the packaging – both the design and the function – makes for a great display piece as well as a solid protector for the figure.
SCULPTING & PAINT APPLICATION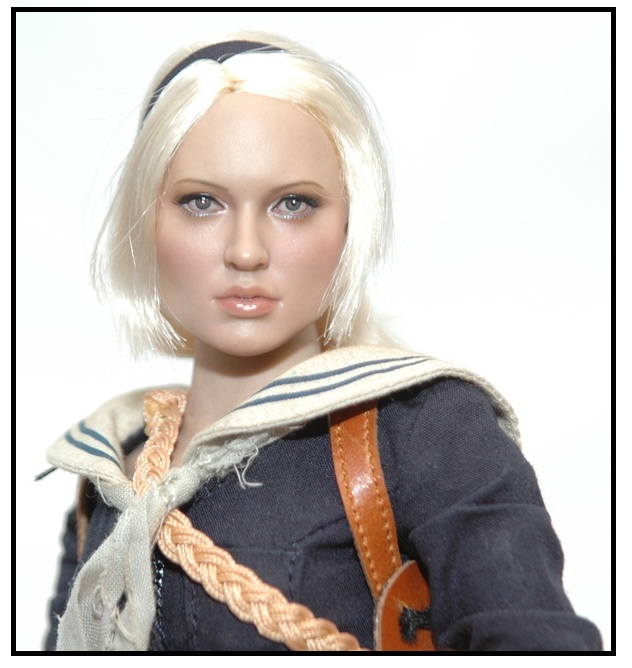 Both
Babydoll
and
Amber
feature beautiful facial sculpts based on the film's actresses Emily Browning and Jamie Chung (
respectively
). Sculpted by Yulli, the
Babydoll
head features life-like skin and a neutral facial expression that'll fit nearly ever pose.
Babydoll
features somewhat controversial rooted blonde hair, which is a favorite of some collectors and a bane to others. Personally, I like the look of rooted hair on well-made 1/6th scale figures; here it works well, with the hair parted and pulled back into film-accurate pony tails on either side of the character's head.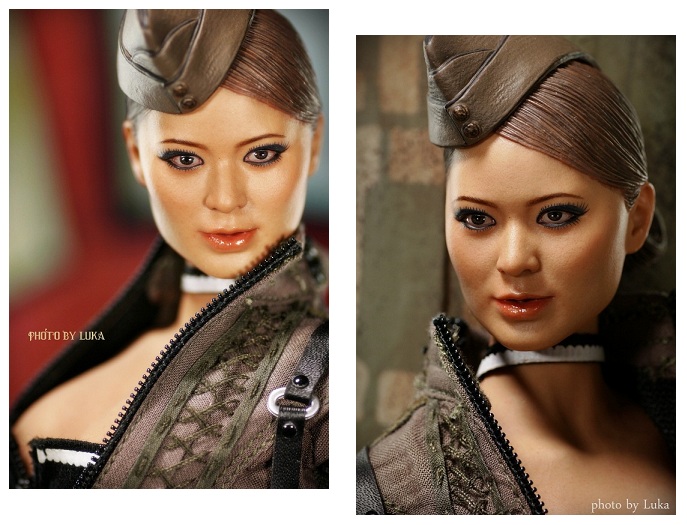 The
Amber
sculpt features beautiful eyes and pout, pursed lips that accurately capture actress Chung's sexy look. The sculpt is brought to life by Song Hye Hyun with paints by JC. Hong. Unlike
Babydoll
,
Amber
features sculpted brown hair pulled back into a bun. This combined with either the included hat or headset accessories (
below
) make for an accurate on-screen look that'll please fans and collectors.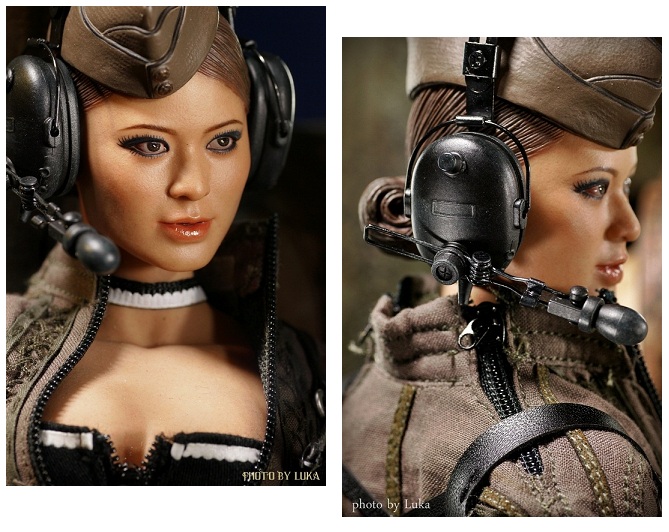 Both figures' detailed paint applications come courtesy of JC. Hong and help bring to life the impressive sculpting.
Babydoll's
blushed checks, tight thin eyebrows, and pink lips compliment the sculpt by Yulli. Likewise,
Amber's
auburn skin tone, black eye liner, and red lips make the sculpt by Song Hye Hyun come to life. Overall, the pair feature well designed, sculpted and painted head sculpts on par with other Hot Toys' figures.
OUTFITS & ACCESSORIES
Sucker Punch
was made to appeal to both men and women. It's no doubt a "girl power" movie (one of the best maybe?) as well as a fan boy's fantasy - scantily clad warrior women battling dragons, robots, and cyborgs. Both
Babydoll
and
Amber
include screen-accurate outfits which help make them attractive to both sexes and any and all fans of the film.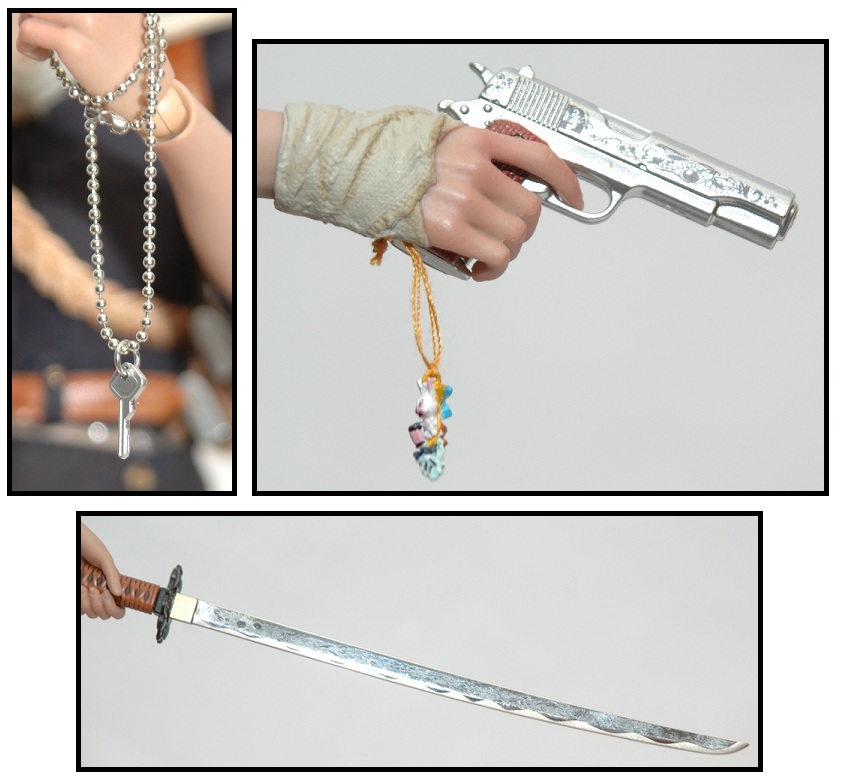 Babydoll
, as every school boy's dream, wears a dark blue sailor-styled shirt, short skirt, black sheer thigh high stockings, and dark blue high heel shoes. Armed for close quarter's battle, the film's main character comes armed with a .45 ACP pistol, a Japanese-style samurai sword with sheath, and a clip-fed sub-machine gun with silencer.
Babydoll
also includes a map case with strap, a radio headset, multiple ammunition magazines for her two firearms and a key on a chain. Screen-accurate and impressive in their minute details, the accessories here help complete the figure's overall look.
Amber
too comes dressed to kill in a green military jacket and pants, a pair of black short shorts and fishnet stockings, and a pair of black military boots. Amber, as the crew's resident pilot, isn't into hand-to-hand combat and comes armed with a only a single knife and pistol, which are housed in a shoulder sheath and holster. Of course, as the pilot, she also comes with the previously mentioned green mini-military hat and headset. Likewise,
Amber
includes her signature red lollipop and gold lighter, which plays an integral part of the story.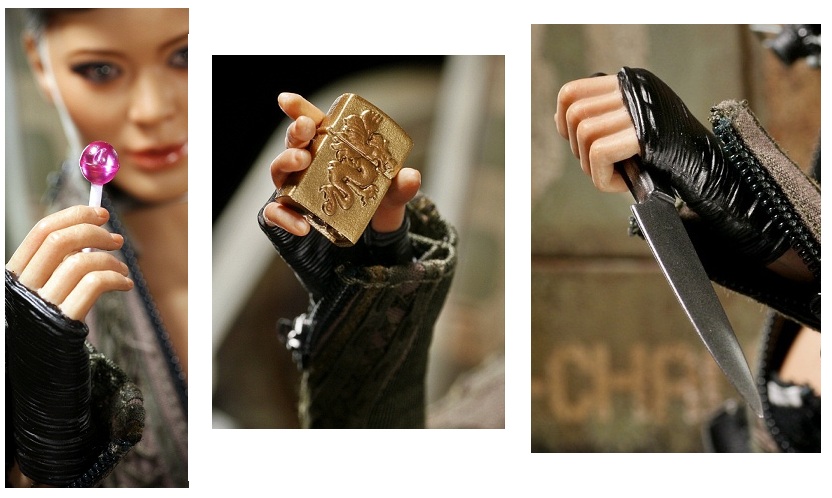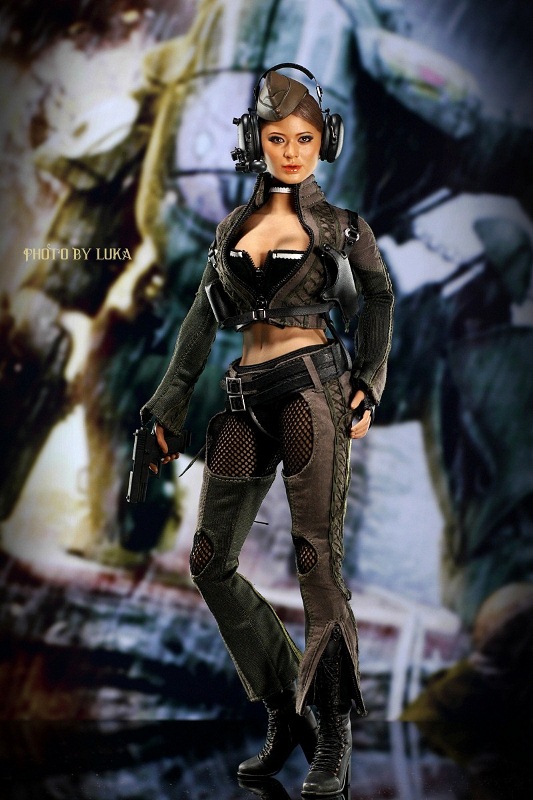 Both figures include multiple, interchangeable hand sculpts which provide various options for display and allow each figure to hold their various respective accessories. Likewise, both figures include the standard Hot Toys figure base which features the figure's name and film name.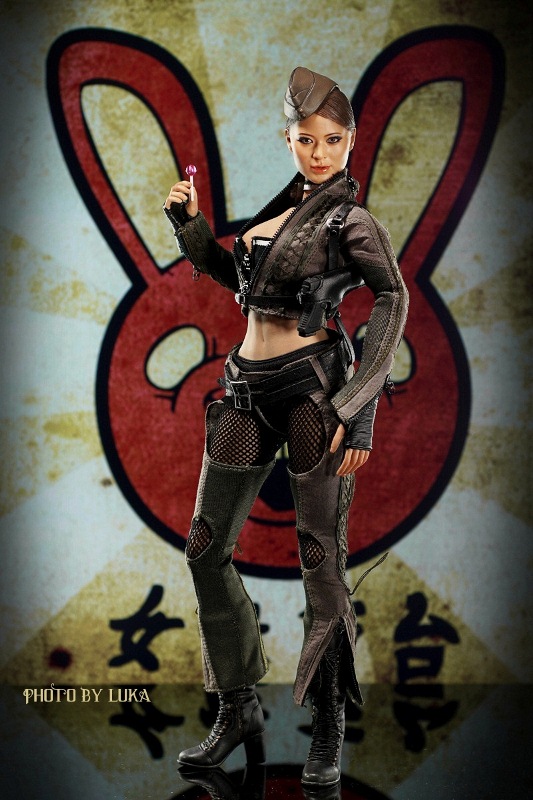 COST & OVERALL IMPRESSION
With a retail price of $169.99 each, both figures - while within the range of Hot Toys' standard figures - seem slightly high. Casual 1/6th scale collectors may shy away from the
Sucker Punch
figures due to a lack of film appeal. In today's figure market, it's somewhat difficult to gauge fan interest in a line like this, based on a film which didn't do nearly as well as expected.
Of course, both
Babydoll
and
Amber
feature screen accurate and impressive clothing and accessories which will appeal to fans of the film. Though
Amber
seems light on weapons, her detailed outfit and gorgeous head sculpt more than make up for this. Likewise,
Babydoll
, who's heavy on the accessories, makes for a great addition to any fan's collection in need of an attractive female figure – especially considering she's the film's main character. All in all, it's hard to go wrong with a well-armed warrior woman dressed in military or school girl garb. If you can find either
Babydoll
or
Amber
for less than $145.00, they're a solid buy.
Both
Hot Toys MMS Sucker Punch: Babydoll
and
Amber
are available wherever fine 1/6th scale figures are sold.
Be sure to check out our
Hot Toys MMS Sucker Punch Photo Gallery
for over 65 photos of these two impressive figures!
- review and photos of Babydoll by Jess C. Horsley
- photos of Amber by Luka Figure Photography
- Samples courtesy of Hot Toys