A History Lesson in Awesome...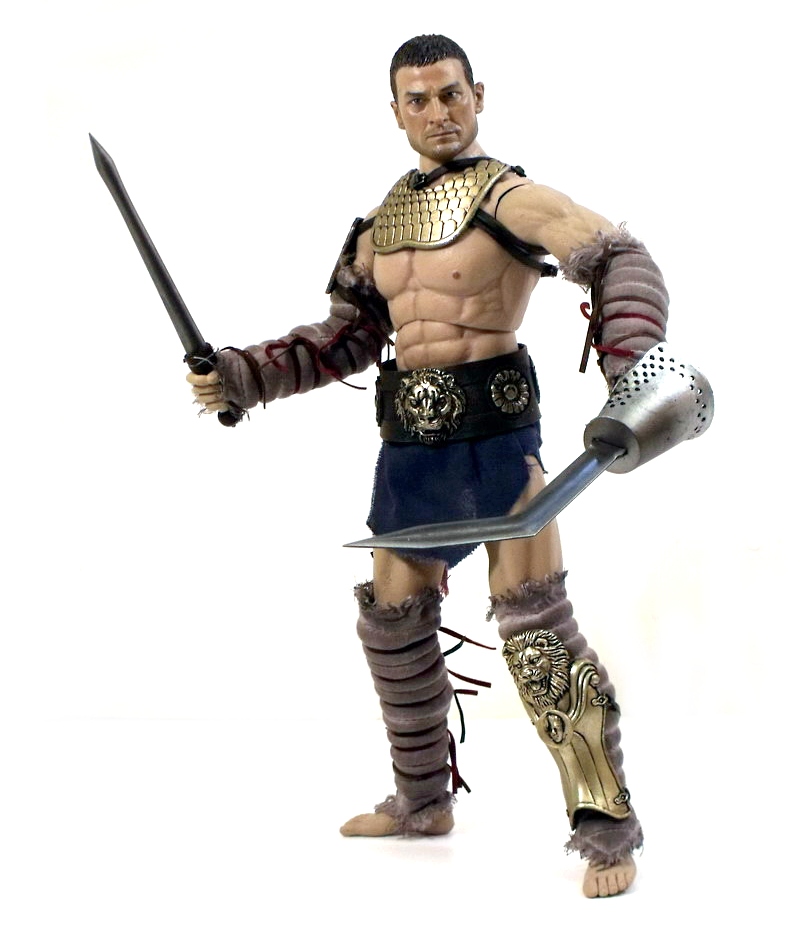 CLICK HERE FOR NEARLY 100 NEW PHOTOS OF SPARTACUS 2!
How do you make a kick butt 1:6th scale action figure without a major entertainment license? By looking back into history, in particular, the bloody gladiatorial arenas of ancient Rome. It is here that
ACI Toys
sought inspiration for their latest 12-inch "Warriors" figure release:
SPARTACUS 2 - Gladiator of Rome
. As the name implies, this is the second version of the historically famous Thracian rebel - the fearless fighter decked out in full gladiator gear. And while this stunning figure is pulled from our violent past, it doesn't hurt that Spartacus is
ALSO
a hit STARZ TV series. The figure bears more than a striking resemblance to the late, great Andy Whitfield. ACI's 1:6 Spartacus 2: Gladiator of Rome is available for pre-order in the U.S. right now through
Cotswold Collectibles
. The figure is listed at $132.99 and is scheduled to arrive later this month. For international orders, visit ACI's "Where to Buy" webpage
HERE
.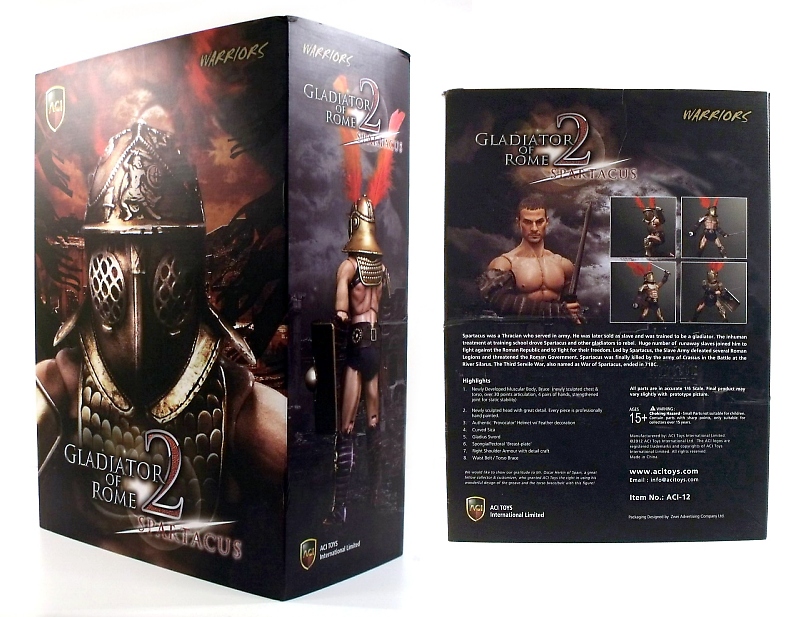 Spartacus (we'll drop the "2" for this review) ships in your typical large cardboard box - a common enough sight for avid 1:6th scale collectors. What's a little unusual here is that ACI has eliminated the fifth panel and internal viewing window, opting instead for a closed package design. As someone who purchases a collectible to actual open up and display, it's a small cost saving measure that I appreciate ACI taking advantage of. While I admire the creativity some companies, such as Hot Toys, put into their packages, you'd be surprised how much of that cost is passed onto the consumer in the overall price of the figure. Back on topic, while Spartacus' package may lack that extra "wow" factor, it's far from inferior. Constructed of sturdy cardboard stock, the box allures with some very nice graphics. The front panel pictures a cool artist's close-up rendering of the beautiful bug-eyed "Provocator" helmet, while the sides and back feature actual photography of the action figure from multiple angles and in numerous poses. The back of the box also stars an
informative bio
on the real-life Spartacus and a list of
figure highlights
, such as the newly developed muscular body. I know if I ever saw this in a store, I'd be all over it - kudos to ACI on a job well done.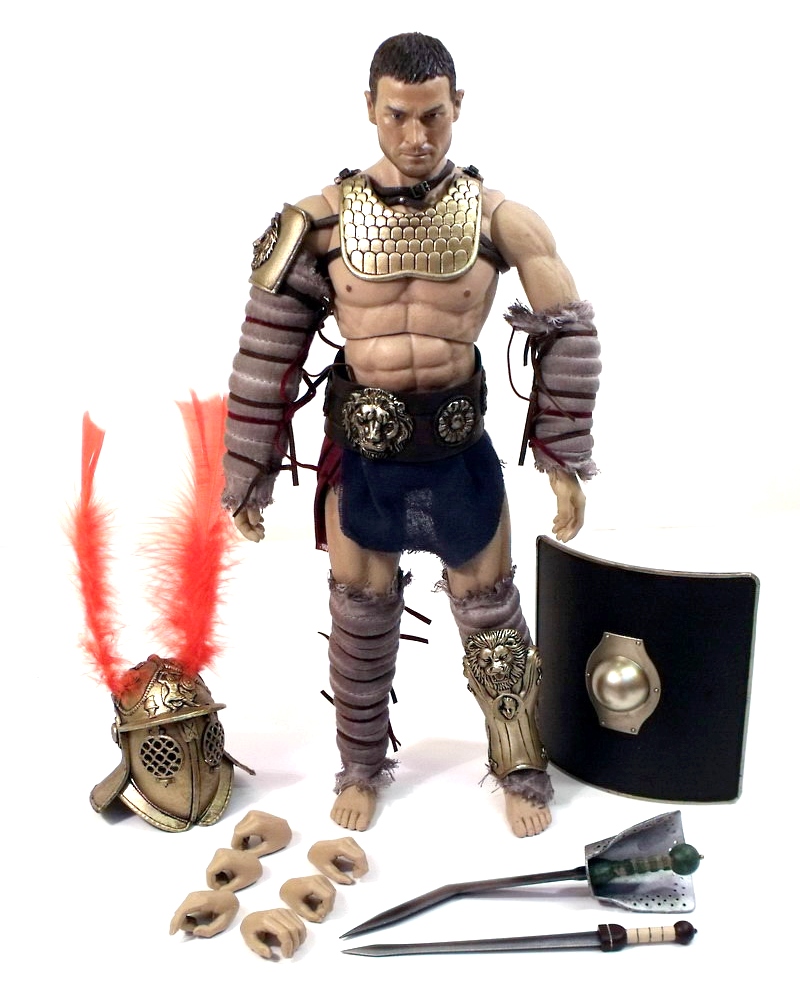 To free Spartacus, simply pop the top lid and slide out the interior tray. I've alluded to price on this figure several times already - $132.99 - and you'll hear it more before this review is finished. That's because it's an exceptional value for a 1:6th scale figure of this caliber on the market today. ACI cut only a few corners to get that cost down - zero licensing fees and the slimmed-down packaging for starters - the other being the lack of a display stand. The rest is made up for with quality accessories, a well-tailored outfit and a solid 12-inch figure. Spartacus' gear is the first thing that impressed me. He includes two bladed weapons - a Roman gladius and an unusual curved sword called a sica. Both of these swords are cast in
real metal
. ACI's choice of real metal blades speaks volumes of the quality and authenticity they were aiming to deliver with this figure.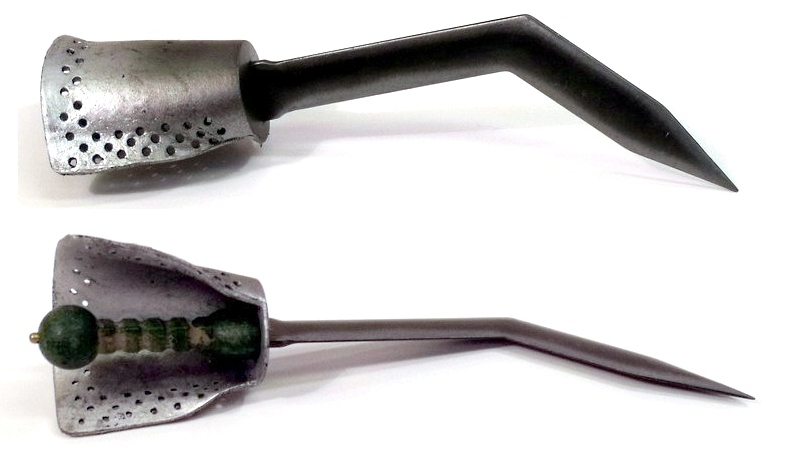 The gladius is my favorite weapon (yes, that tip
is
sharp), but the sica amazed me with it's odd design. A quick google search informed me that the distinctive shape of the sica was designed to get around the sides of an opponent's shield, and stab or slash them in the back. This weapon wasn't just thrown in with this figure because it looked cool -it was actually used by the Thracians, aka: Spartacus, in gladiatorial combat. Not only is Spartacus a great looking action figure, but it's a history lesson!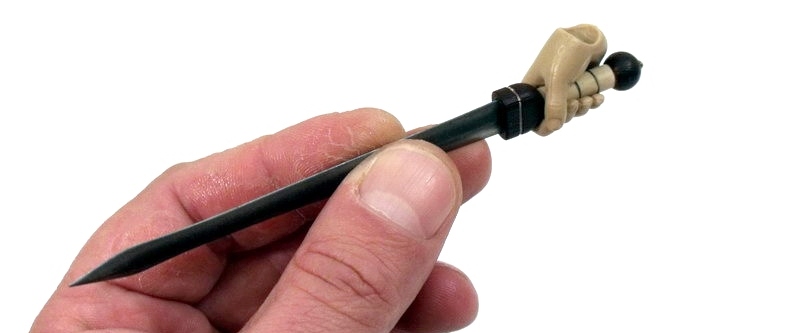 Spartacus holds both of these blades, as well as the included plastic shield, firmly thanks to numerous
extra hands that are included
. ACI slips in a small card informing you to use a hairdryer to soften the hands before exchanging - a nice tip that insures the
wrist peg
, although it is strong, from snapping. That hairdryer trick also works wonders on allowing Spartacus to grasp the gladius. There is one pair of hands that are weapon grasping, however the thumb is actually attached to the fingers. In other words the hole created is a hair too small for sliding the gladius' large ball pommel through. Using a hairdryer to quickly soften the plastic, however, will allow you to push the gladius' handle through for a very nice and tight fit. In fact, it's the firmest weapon grip I've ever seen on a figure and just makes playing around with Spartacus that much more enjoyable. Alas, the pommel on the sica is too large for this trick, but Spartacus' other weapon gripping hands do work well.
Moving on to the figure itself, collectors get ACI's newly developed muscular body called "Bruce". The figure highlights on the back of the box tell me that this new body features over 30 points of articulation and strengthened joints for stability. They ain't foolin'! This is an extremely well-crafted action figure body. The plastic used is tough and sturdy and the joints are all very tight and firm. I thought that the figure being barefoot and not having a display stand would be a balancing problem. It is, in fact, the opposite; Spartacus is able to strike a pose and hold it, all without the constant fear of him falling over. I had a
BLAST
playing with... I mean, posing this figure for photography.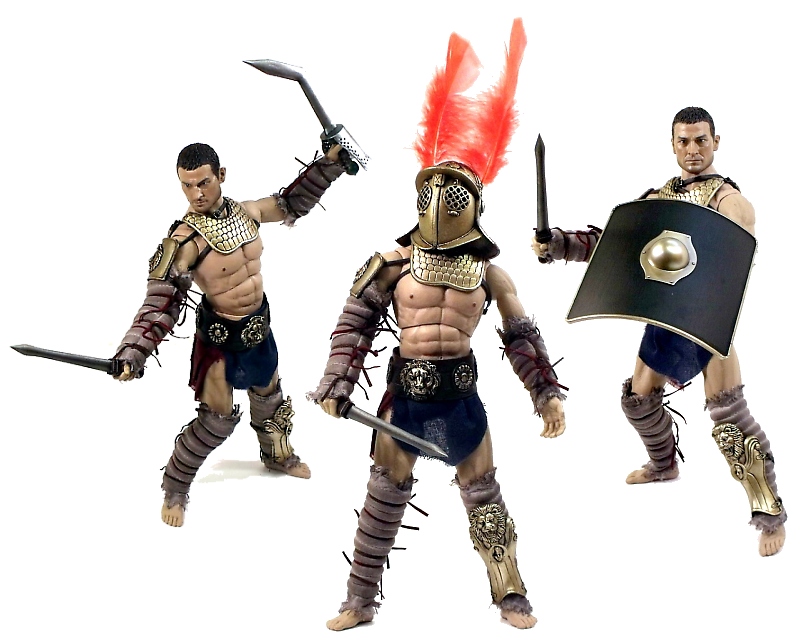 Spartacus' outfit, while sparse, compliments this extreme articulation well. The thick arm and leg wrappings do hinder movement a bit, but not as much as you would think. The "leather" bindings are also positioned in a way as to not impede movement and they all come across very authentic with their micro buckles (I'd hate to be the one who had to thread those). Armor is equally impressive, ACI giving each semi-soft plastic piece a realistic bronze finish. The lion head motif is also pretty cool.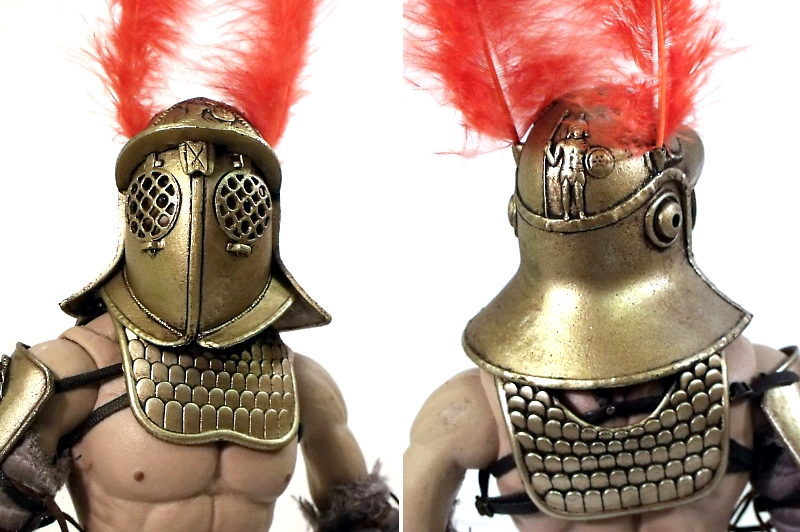 The neatest piece of armor is without a doubt the bug-eyed "Provocator" helmet. ACI includes two red feather plumes to stick in each side of the piece, and while they do fit, collectors may want to apply a dab of glue for a better bond. The helmet doesn't open, but instead slides right over the figure's head. It's a great fit, though removing the helmet requires you to slightly angle it in order to slip it past Spartacus' nose. Once the helm is removed, you may end up with some paint on the figure's nose, but have no fear! - the figure's face paint didn't get scratched, it's from the inside of the helmet. A quick wipe will get rid of the paint. Passing that along because I just about flipped out thinking Spartacus' head sculpt was ruined when it happened to me.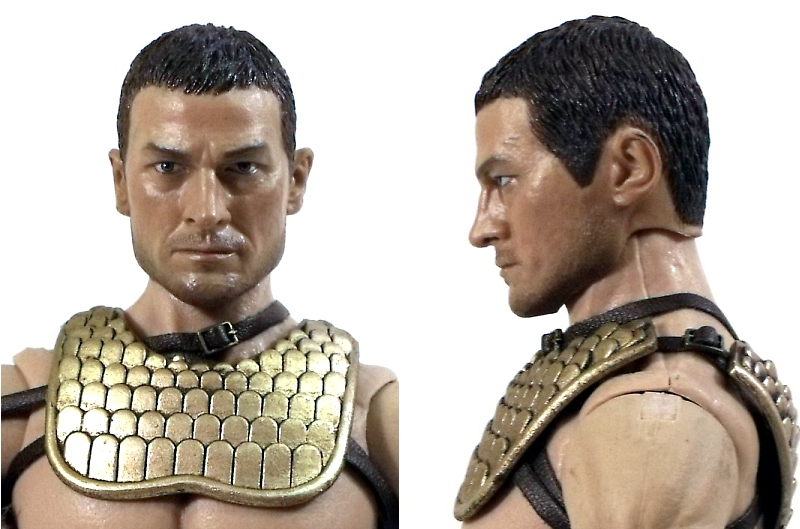 What
will
ruin Spartacus' incredible head sculpt is having the figure wear the helmet... because you can't see it! It's the biggest dilemma I had with this figure: On one hand you have this insanely cool-looking helmet and on the other you have this superb head sculpt that looks just like Spartacus on the hit STARZ TV series. What's a collector to do? Well, for me the hard answer was to let the amazing head sculpt shine through and have his helmet on the ground besides him. The sica, while unique, I opted to have ditched on the ground as well in favor of the gladius and shield combo. Decisions, decisions, decisions... but all
FUN
decisions thanks to ACI's smart selection of gear. Let's hope they don't come out with a gladiator weapon's pack...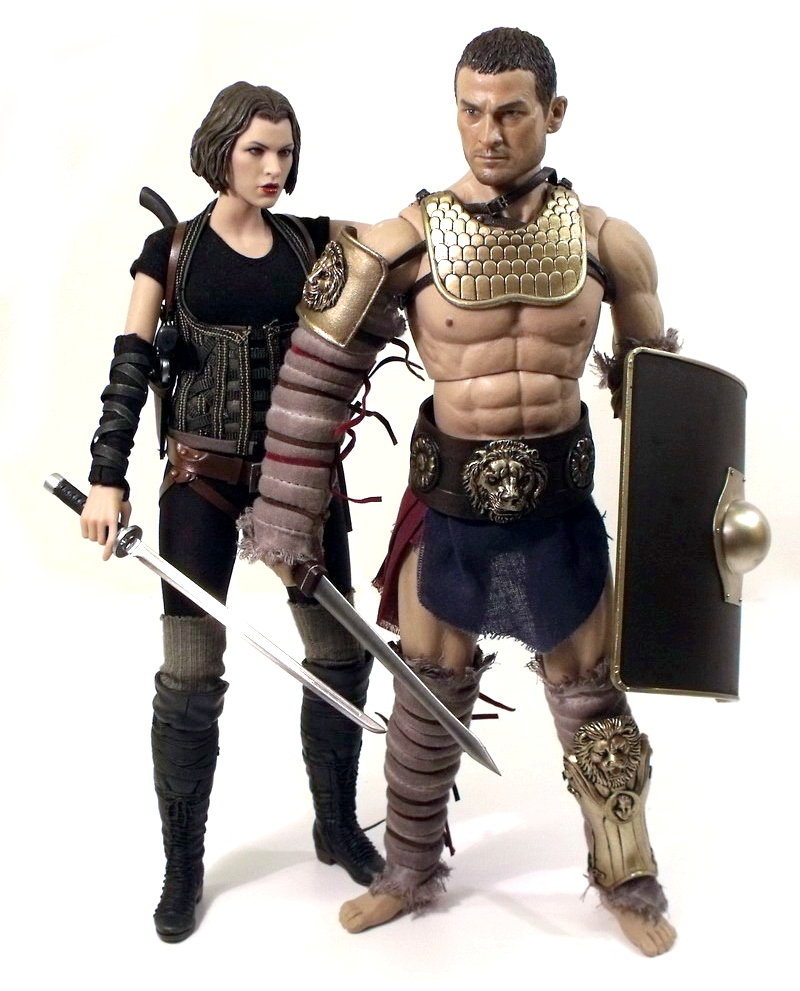 The Spartacus 2 "Gladiator of Rome" action figure has opened my eyes. I had only vaguely heard of ACI Toys before this figure, but they are certainly on my "company to watch" list now. $132 is an amazingly good value for this well-constructed, well-equipped and well-sculpted 1:6th scale collectible. While Spartacus isn't a licensed product, it just goes to show you how awesome history can be. It's particularly refreshing to see a 1:6 company tap something beyond modern military and the World Wars - the ancient gladiator fights have always captivated my imagination and it's great to see the period get its collectible due. Keep the gladiators coming ACI, and while you're at it, look into making some medieval knights. That's another history lesson in awesome...
CLICK HERE FOR NEARLY 100 NEW PHOTOS OF SPARTACUS 2!
ACI's 1:6 Spartacus 2: Gladiator of Rome
is available for pre-order in the U.S. right now through
Cotswold Collectibles
. The figure is listed at $132.99 and is scheduled to arrive later this month. For international orders, visit ACI's "Where to Buy" webpage
HERE
.
Review and Photography by Jeff Saylor
Review Sample Courtesy of ACI Toys