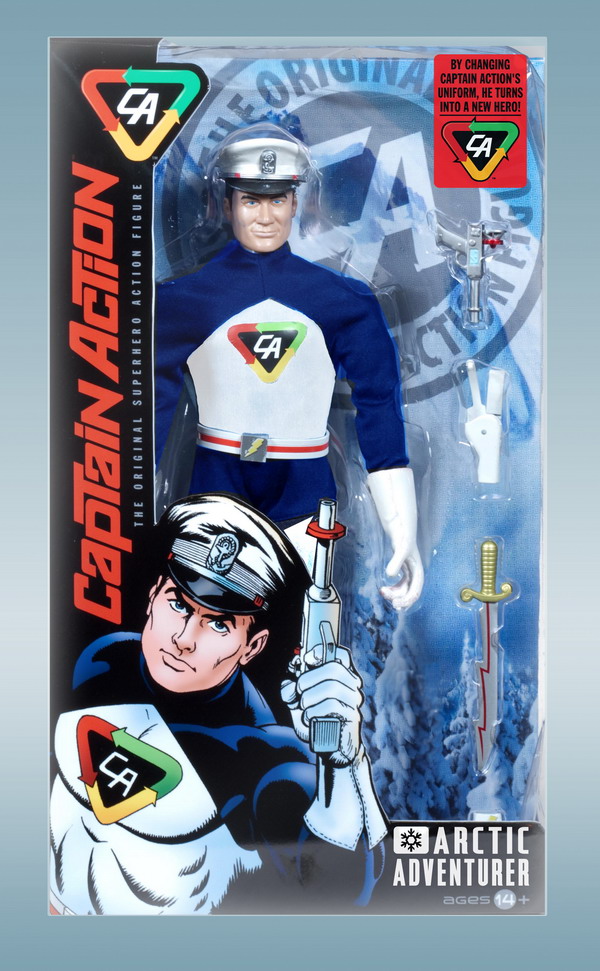 Round 2, LLC and Captain Action Enterprises announce the near release of the first official variant figure set for the new Captain Action toy line -
Captain Action Arctic Adventurer
.
The Arctic Adventurer figure set gets Captain Action ready for top-secret polar missions. To camouflage himself against the stark whiteness of the Arctic, Captain Action gets a customized white and blue permafrost insulated suit, white gloves and white boots.
"We're excited to offer this holiday present to fans and collectors," said Michael Murphy, Creative Director of Round 2, LLC. "This is not only a fun addition to any collection, but also a great gifting opportunity".
Arctic Adventurer includes the 11 ˝" super-posable body introduced earlier this year, cloth costume with an all-new color scheme with hat, gloves and boots in variant colors. Spy equipment includes laser gun, belt and holster, lightning sword and sword holder and an additional set of ungloved hands. Captain Action Arctic Adventurer will be available in one style and offered in limited quantities.
"We felt it important to offer something cool and fresh during the Holiday season. This time of year evokes so many wonderful memories for Captain Action collectors and we wanted to provide that for the next generation," said Ed Catto of Captain Action Enterprises.
Captain Action Arctic Adventurer will be available at Toys"R"Us, hobby shops and comic shops nationwide in late October.
Source: Round 2