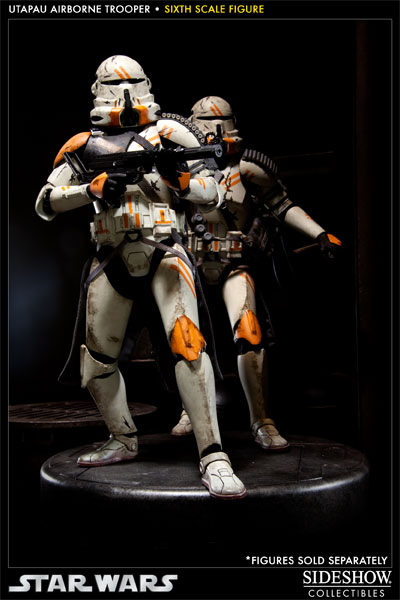 Sideshow is
now accepting pre-orders
on their newest 12-inch Militaries of Star Wars action figure:
Utapau Airborne Trooper
. The figure is priced at $134.99 and slated for release this November.
The 12" Utapau Airborne Trooper includes:
- Airborne Clone Trooper Helmet
- Fully Articulated Armored Trooper Body
- Detailed Costume includes a fabric Kama Commander Skirt, Bandolier and Satchel
- DC-155S Carbine Blaster
- DC-15 A Rifle Blaster
- Two (2) DC-17 Pistol Blasters
- One (1) Pair Standard Combat Boots and One (1) Pair Action Combat Boots
- Six (6) Pairs of Interchangeable hands
-
Sideshow Exclusive:
Additional 2nd Airborne Company Display Base with 'Parjai Squad' Emblem
CLICK HERE
for more images.