Enterbay
continues to impress collectors and fans of both action figures and movies with their line of Real Masterpiece figures based on fan-favorite films. Their latest entry in the series is none other than
Scarface War Version
. Beautifully capturing one of the unique looks of
Tony Montana
from the classic, critically acclaimed film
Scarface
, this 12" figure features an impressive package, well-designed suit, and a variety of accessories.
PACKAGING
Like other Real Masterpiece figures,
Tony Montana
comes in a solidly constructed, heavy duty rectangular white box featuring the film's movie poster on the front and the character's logo on side. The interior of the box features a cutout foam core which protects the figure as well as a molded plastic tray which houses the weapons and accessories. Both the foam and plastic tray allow for collector-friendly packaging, which is a bonus for collectors who want to display and later store the figure.
SCULPT & CLOTHING
Thanks to the impressive work by Enterbay's artists, the figure features a near perfect sculpt of actor Al Pacino as gangster
Tony Montana
. The minute details are all present, from the snarl on Tony's face to the scar under
Tony's
left eye and left eyebrow.
Tony's
snarl, sculpted perfectly to portray his look of pure disgust and anger, helps bring the character to life as does the figure's sculpted hair, which, together, capture a specific look from the film which no doubt collectors will appreciate. Likewise, the hands likewise feature a good deal of sculpting, including multiple rings on the fingers and veins.
Something that's impressive on the
Scarface War Version
figure is the clothing, which again captures a specific look from a certain scene in the film. The shoes and belt are faux leather while the pinstripe suit - to include the white undershirt with butterfly collar, pinstripe vest, and jacket and slacks - all fit the Real Masterpiece Enterbay 12" body perfectly. (That said, the articulation does suffer due to the tight fitting jacket, shirt, and pants - more on that below).
PAINT APPLICATION
The figure's most prominent painted features are on the face and head. Enterbay uses what's referred to as a "multi-layer" paint technique, which puts layers of paint down to give them a more natural look. This works well with Tony Montana as it provides an incredibly realistic looking figure. Everything from the character's sunspots to the realistic 5 o'clock shadow are present thanks to this technique. The paint application on the hands is less impressive, but still very good. Shading on both the face, neck, hair, and hands provides some additional depth, which as previously mentioned helps add a realistic look.
ARTICULATION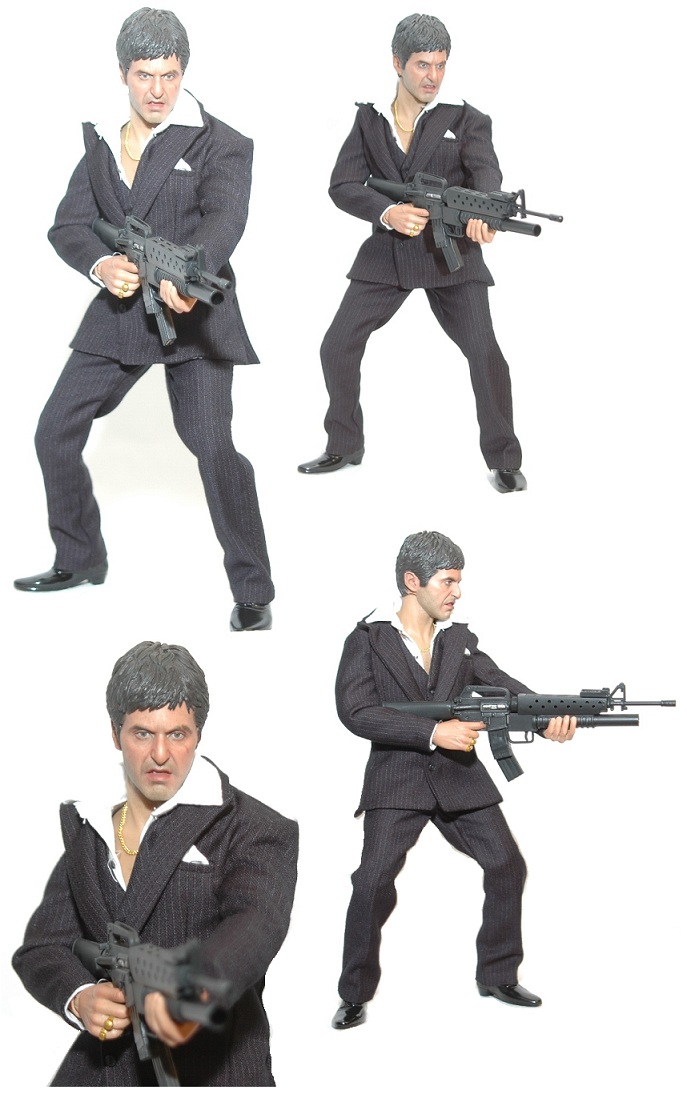 The figure base is the Enterbay Real Masterpiece 12" Body, which - like the Hot Toys Truetype - features a generous amount of articulation providing for plenty of realistic posing and positioning. The figure body features pin joint feet, ball and twist ankles, double-jointed knees and elbows, ball-joint hips, twist and pivot waist and chest, ball-joint shoulders, pivoting shoulder/chest, ball and pin wrists, and a ball-in-socket head. With a total of over 25 points of articulation, the body provides for plenty of optional movement. However, as previously mentioned, many of these articulation points are restricted by the clothing, which hinders the full range of movement. This isn't really an issue as it's to be expected, but it's worth mentioning.
WEAPONS & ACCESSORIES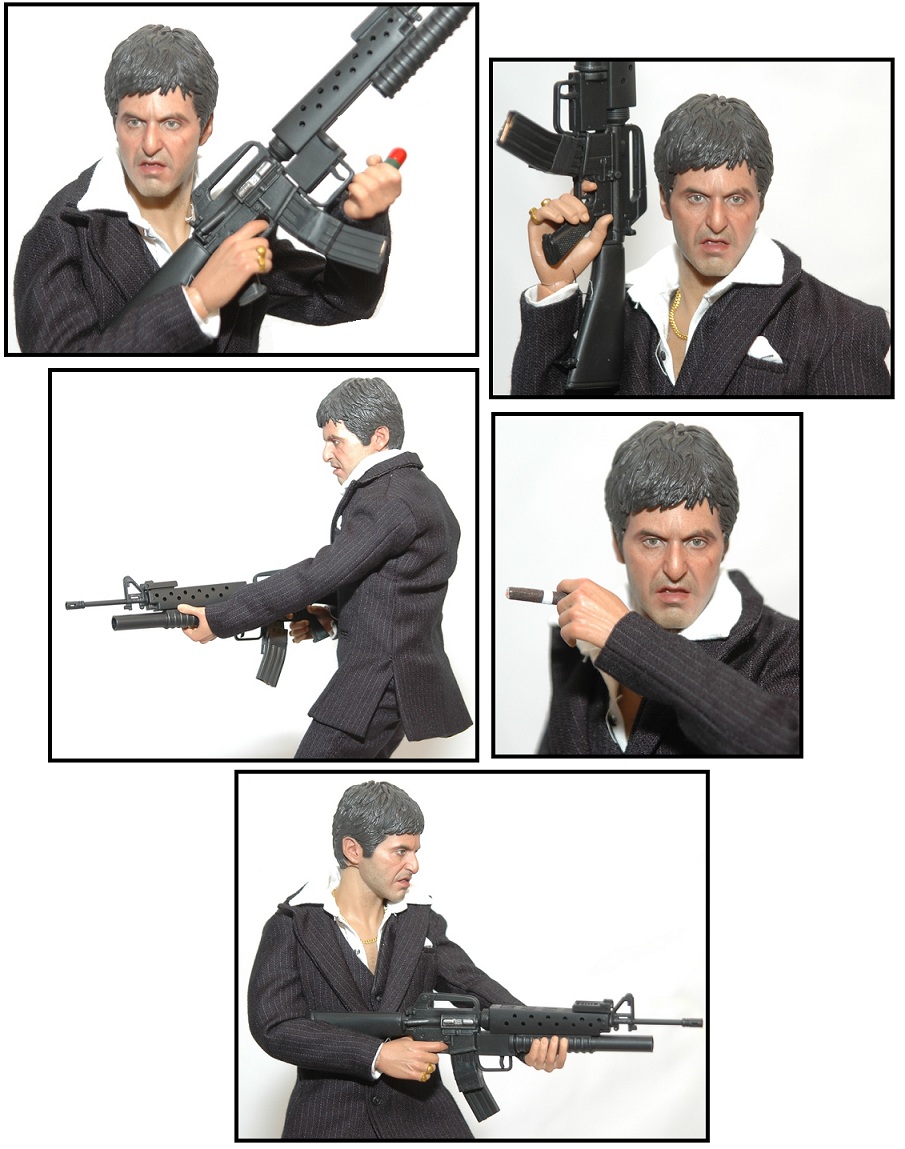 Scarface War Version
wouldn't be complete without his AR-15 with attached M203 Grenade Launcher. The figure includes two grenades as well to have Tony load as well as two removable magazines for the rifle. Other accessories include four sets of hands are also included, providing a variety of hand/accessory display options. These hands include weapon holding, fists, relaxed, and others which specifically fit other accessories, like the cigar. The figure includes a number of jewelry pieces, including a watch, a pair of sunglasses, a gold necklace and a silver bracelet. Besides the rifle, the most prominent accessory is a briefcase, which houses three bags of cocaine; an appropriate accessory for
Tony Montana
.
COST & OVERALL IMPRESSION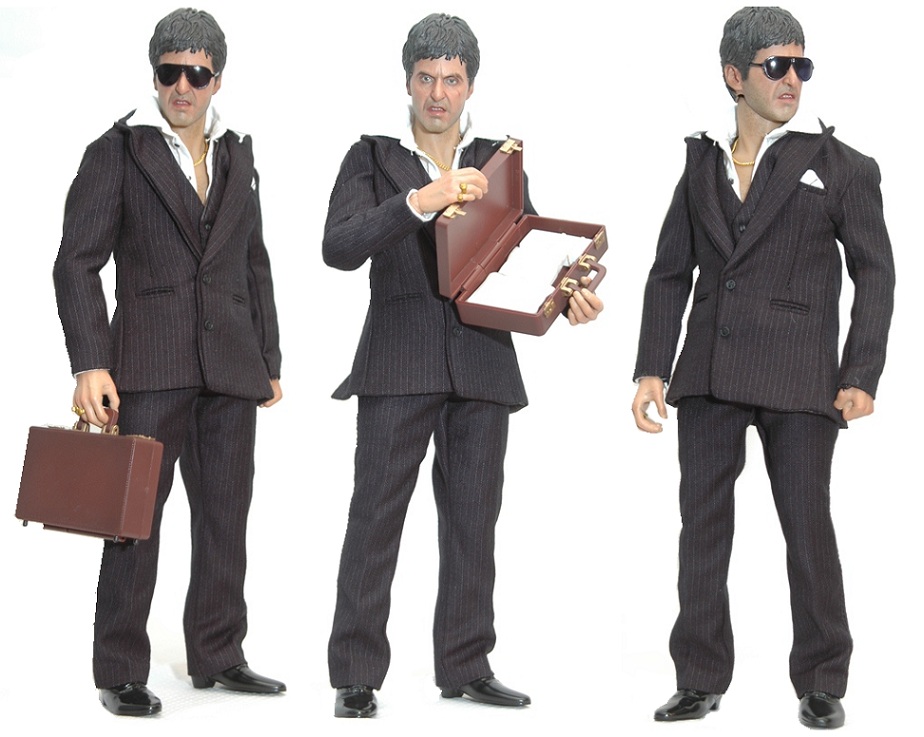 If you're a die-hard fan of
Scarface
- and there are a lot of die-hard
Scarface
fans and collectors out there due to the character's popularity among the hip hop crowd - this is an excellent addition to your collection. With a retail price of around $230.00, this isn't a cheap figure and it'll primarily appeal to those collectors looking to add additional
Scarface
memorabilia to their collection or add an impressive 1/6th scale figure to their display.
While the
Enterbay Scarface War Version
figure does have a few minor faults, the only significant drawback is the price, which may turn off casual fans or collectors looking to pick up what is a very impressive and all-around amazing addition to a display or collection.
- review and photos by Jess C. Horsley
- sample provided by Enterbay